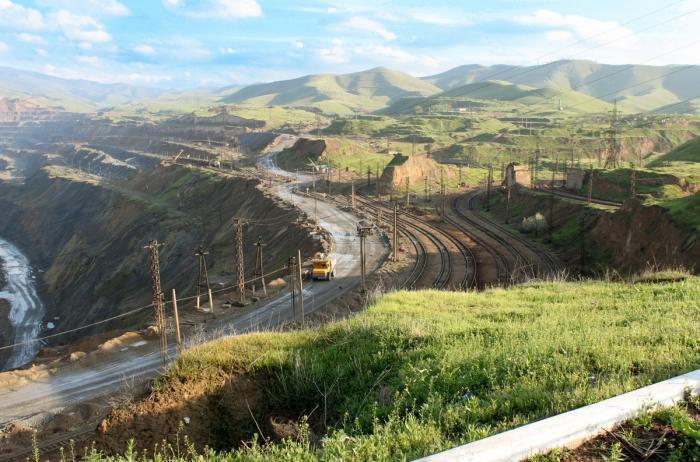 The Almalyk Mining and Metallurgical Combine (AMMC) has begun implementation of the second phase of the project for construction of a railway infrastructure at the Kalmakyr mine, the press service of the AMMC reported.
"The Kalmakyr mine is the largest mining enterprise in the CIS countries, which is the main ore base for non-ferrous metallurgy of Uzbekistan. Mining is carried out here by the open method, and the ore is processed at a copper concentration plant. For more than half a century of existence, this mine has become one of the leading mining enterprises for extracting non-ferrous metals in the world," chief engineer of the industrial railway transport department at the combine Sirojiddin Manazarov said.
According to him, in 2016, an investment project to expand and modernize the mine was completed here, bringing its design capacity to 30 million tons of ore per year.
As part of the new investment project, he noted, an increase in the design capacity of the mine and expansion of the railway transport infrastructure, acquisition of the necessary mining transport equipment are envisaged.
"In April of this year, a complex of one switch set was made and 0.15 kilometers of rail-sleeper grid were laid on reinforced concrete sleepers. A second switch is being assembled at the construction site, which will be installed on the new railway line. Experts of the Kalmakyr mining group will prepare the route for it," Manazarov noted.
To date, 107,000 cubic meters of the planned 276,000 areas have been cleared during mining. As soon as the necessary materials are received and all the preparatory work is completed, specialists will begin construction and installation of the contact network line and the railway track.
"Production of reinforced concrete foundations, metal supports and reinforced concrete weights, which are also used in the course of reconstruction, is being successfully carried out by other divisions of the combine. Completion of all works on this object is scheduled for by the end of this year," he stressed.