Ambassador Javlon Vakhabov met with Daniel Belson, Director of Advocacy for Europe and Central Asia of Amnesty International, in order to provide objective information about the situation in Karakalpakstan, as well as to discuss Uzbekistan's efforts to ensure peace, stability and sustainable development of the region.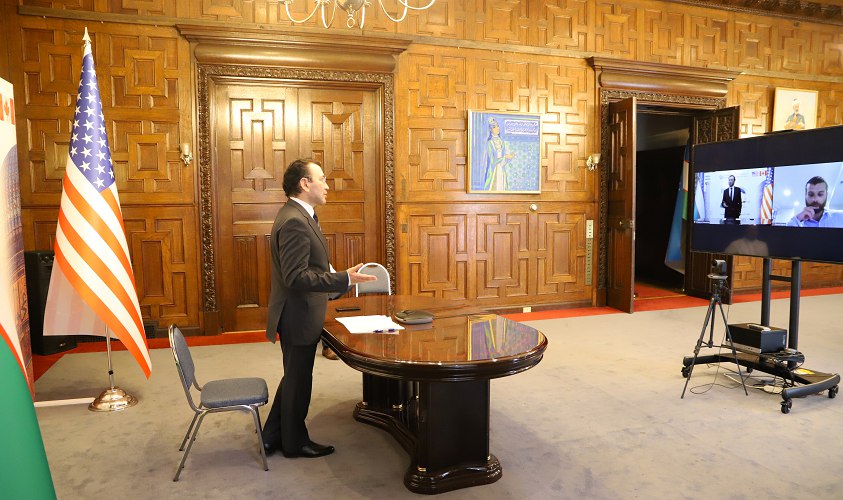 During the meeting, the representative of the human rights organization was explained in detail the essence of the constitutional reforms and the significance of the proposed amendments to the Constitution of Uzbekistan, the measures taken to ensure an open process of public discussion of the amendments, as well as the active participation of the population in the national discussion of the draft Constitutional Law.
At the same time, it is emphasized that despite the created conditions for the free expression of will and opinion of citizens on the basis of democratic principles, certain forces tried to destabilize the situation in Uzbekistan, choosing the path of aggression and violence. In this context, the true causes of the unrest in Karakalpakstan, which began under the pretext of disagreement with the constitutional reform, were brought to light.
The commitment of the Government to conduct a full and transparent investigation of the events in Karakalpakstan was indicated.
In turn, Daniel Belson thanked for the openness of the Government of Uzbekistan to dialogue on any issues related to the events in Karakalpakstan. The human rights activist stressed that the recent instructions of the President to conduct a comprehensive investigation of the events and assess the actions of law enforcement agencies with a view to the unjustified use of force are an important signal indicating the determination to ensure the transparency of this process.
In this context, the representative of Amnesty International stressed the importance of involving the journalistic community and civil society institutions in the process of covering events in Karakalpakstan and monitoring the investigation progress. Welcoming the free exercise of journalistic activity, Daniel Belson expressed hope for continued efforts by the Government to ensure unhindered access for correspondents to both foreign and Uzbek media.
According to the diplomatic mission of Uzbekistan in Washington, Amnesty International is an international non-governmental organization founded in 1961 and headquartered in London. There are more than two million members and about five million supporters in almost every country and region of the world.