On August 6, 2019 in Ankara, Foreign Minister of Uzbekistan Abdulaziz Kamilov, who is on a working visit in Turkey, met with the host country's Chairman of the Grand National Assembly Mustafa Şentop, the MFA press service said.
During the meeting, the current state of inter-parliamentary relations and prospects for expanding them were discussed. It was emphasized that the signing of the Memorandum of Cooperation between the Oliy Majlis of Uzbekistan and the Grand National Assembly of Turkey in 2017 became an important component of the legal framework for Uzbek-Turkish cooperation.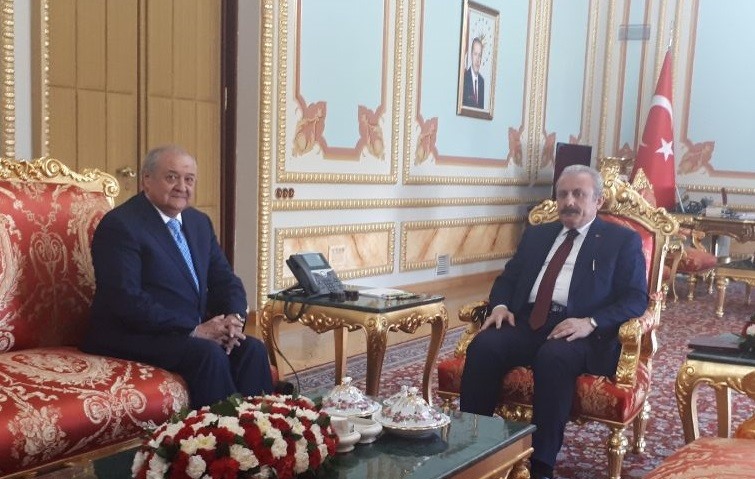 The parties noted the importance of inter-parliamentary cooperation as a favorable factor for the comprehensive development of relations between the two countries. It was emphasized that strengthening the legislative framework for cooperation plays a key role in the further development of multifaceted collaboration, primarily in the economic sphere, and the expansion of mutually beneficial contacts between representatives of business circles of Uzbekistan and Turkey.
At the meeting, the parties also exchanged views on other pressing issues of the Uzbek-Turkish agenda, confirming their readiness for legislative support to strengthen ties in the tourism, cultural, humanitarian, educational and other fields.
During the conversation, the parties, noting the success of the first joint meeting of inter-parliamentary cooperation groups in March 2018 in Tashkent, considered the organization of Oliy Majlis representatives' visit to Turkey to participate in the second joint meeting in Ankara.
Mutual interest was voiced in the exchange of experience in law-making, organization and conduct of parliamentary elections. The Uzbek side invited members of the Turkish Grand National Assembly to participate as observers in the upcoming elections to the Oliy Majlis and local Councils of people's deputies, which are scheduled for December this year.