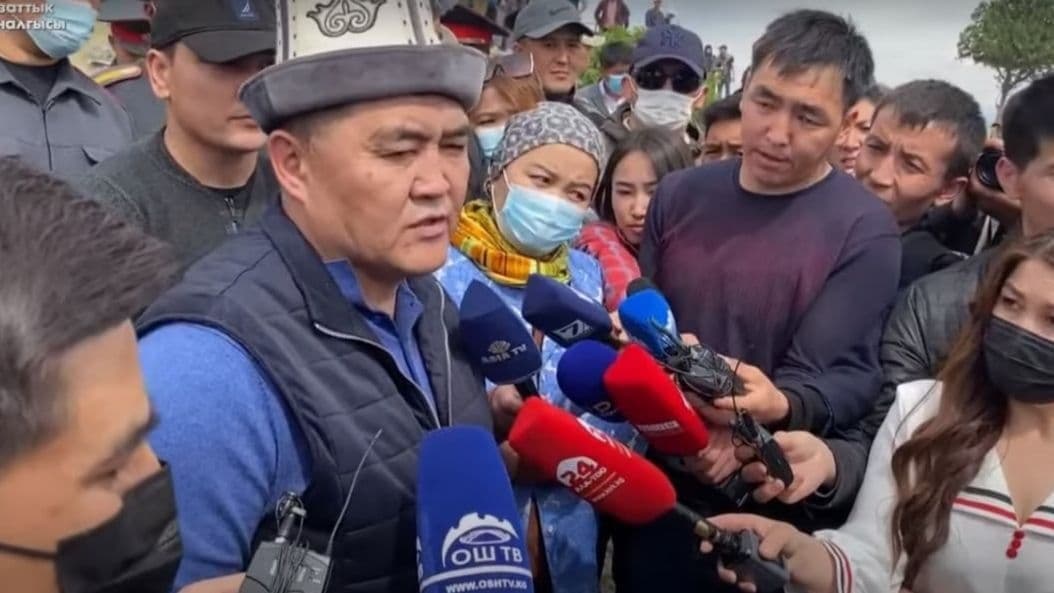 On April 19, the Chairman of the State Committee for National Security and the head of the Kyrgyz delegation on delimitation and demarcation of the state border, Kamchybek Tashiyev, met with residents of the Kara-Suu district, Osh region.
According to Kloop, they oppose the transfer of 50-hectare land near the Kempir-Abad reservoir to Uzbekistan. It is noted that hundreds of people came to the meeting.
The report says that at the meeting, residents of the Savai rural area, which is located near the Kempir-Abad reservoir, were outraged by the authorities' decision to transfer 50 hectares of land to Uzbekistan.
"Uzbekistan has already fenced 20 out of 50 hectares. I will offer Uzbekistan not to fence off the entire 50 hectares. I will propose to exchange not 50 hectares, but 20 hectares near the reservoir, which they have already fenced. Now I will go to Uzbekistan and offer this option. If we give 20 hectares of land here, then in Uzgen district we will take 20 hectares. There will only be an exchange of territories. We will try to convince our colleagues in Tashkent," Kamchybek Tashyiev said.
According to him, Uzbekistan is asking for this particular site in order to ensure the safety of the reservoir.
On April 16, about 100 residents of the Yntymak village of the Kara-Suu district set up yurts near the Kempir-Abad reservoir and demanded that Tashiyev comes to them.
It should be reminded that on March 23, Kamchybek Tashiyev arrived in Tashkent for negotiations. And on March 26, the head of the State Committee for National Security said that Kyrgyzstan and Uzbekistan "have resolved all border issues."
By agreement with Uzbekistan, Kyrgyzstan received:
- 105 hectares on the Kok-Serek site;
- 212 hectares on the Bayastan site;
- 100 hectares on the Ak-Tash site;
- 25 thousand hectares on the Kara-Beles site – it was previously transferred from Kyrgyzstan to Uzbekistan, and now it has been returned;
- 35 hectares on Mount Unkur-Too (Ungar-Too).
In exchange for this, the Orto-Tokoy reservoir in the Jalal-Abad region was completely transferred to Uzbekistan. As a result of bilateral negotiations, Kyrgyzstan is allowed to use 5% of the water in Orto-Tokoy.
Now there are four Uzbek enclaves on the territory of Kyrgyzstan - Sokh, Shakhimardan, Chon-Gara and Tash-Dobe.
There is one Kyrgyz enclave in Uzbekistan, Barak, with an area of four square kilometers.