On September 23, a regular meeting of the Central Election Commission took place. The members of the commission considered the issues of approving the form and text of the ballot paper for the election of the President of the Republic of Uzbekistan.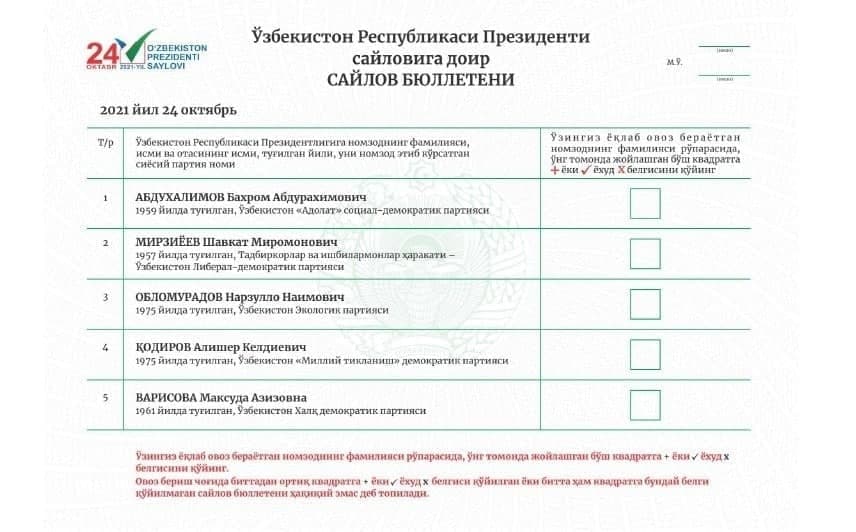 According to the CEC, in accordance with Article 31 of the Electoral Code, the surname, name, patronymic of the candidate, indicating the year of birth and the political party that nominated him as a candidate, are entered on the ballot in alphabetical order.
Ballot papers are printed in the state language, as well as by the decision of the district election commission in the languages used by the majority of the population of the respective district. Stencils can be made to fill in Braille ballots.
On the basis of Article 32 of the Electoral Code, precinct election commissions receive ballots from district election commissions no later than three days before voting day, including early ones.
Based on the information provided by the Ministry of Foreign Affairs on the number of voters at polling stations established at diplomatic and other representations of the republic in foreign countries, the CEC ensures the production and delivery of ballots.
The number of ballots received by the precinct election commission cannot exceed the number of citizens included in the lists for the precinct by more than half a percent.
Resolutions on the issues included in the meeting agenda were adopted by open voting by a majority of votes from the total number of members of the commission. CEC resolutions come into force from the moment they are adopted.