1 trillion soums will be allocated for the preparation of proposals submitted to the "Open Budget" for 2022. Citizens can submit proposals from February 1 to 20.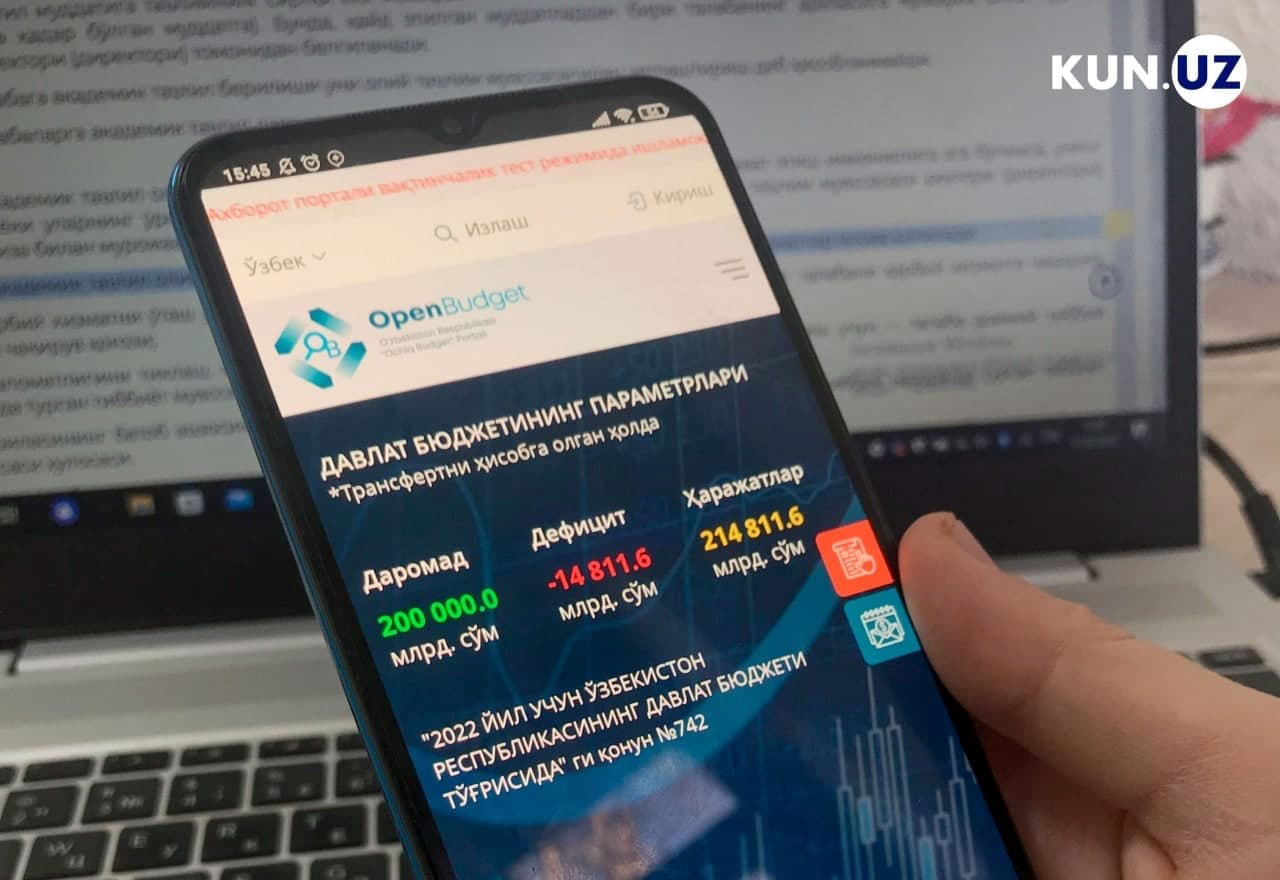 Ministry of Finance reported on February 1 that citizens can submit their proposals through the "Open Budget" portal. Offers will be accepted until February 20. From March 3 to March 22, a round of voting on the proposals submitted will be held.
On the "Open Budget" portal, all citizens of Uzbekistan can leave suggestions about problems at their place of residence. 1 trillion soums have been allocated for the "Initiative Budget" project for 2022.
Former head of department under the Ministry of Finance Sherzod Mukhammedov informed Kun.uz that the "Initiative Budget" in 2022 will require 3-4 times more funds than last year.
"In 2022, the amount of funds allocated for these purposes will be increased by 4 times. That is, if more than 400 billion soums are allocated this year, 5% of the approved budgets of districts and cities will be spent in the future. Only these funds will already exceed 1.5 trillion soums. In addition, 30% of additional sources of district and city budgets will be directed to the "Initiative Budget" project. This year it will be possible to finance more than 1,600 proposals, and next year their number will increase by 4-5 times," the ministerial representative said.
In 2022, the project will be held twice. The second part is scheduled for the period from August 15 to September 15.
Briefly about the project:
In July, the Ministry of Finance launched an updated "Open Budget" portal (Openbudget.uz), which published information on the state budget and public debt, and also created a section so-called "Initiative Budget".
Citizens can address with proposals for solving the problems of their mahalla, settlement and district through the Openbudget.uz platform. This can be, for example, improving the infrastructure of the city, building parks, children's and sports playgrounds, improving the environmental situation and water supply, repairing and installing street lighting, repairing and equipping schools, and so on.
In 2021, the project was launched for the first time, with more than 1,600 projects funded. The largest number of proposals from citizens received for the repair of internal roads.