The delegation of Uzbekistan, headed by the First Deputy Chairman of the Senate Sodiq Safoyev, visited the Kyzylorda region on April 21-22 to participate in the 2nd meeting of the Commission on Cooperation between the Senate of Oliy Majlis and the Senate of the Parliament of Kazakhstan.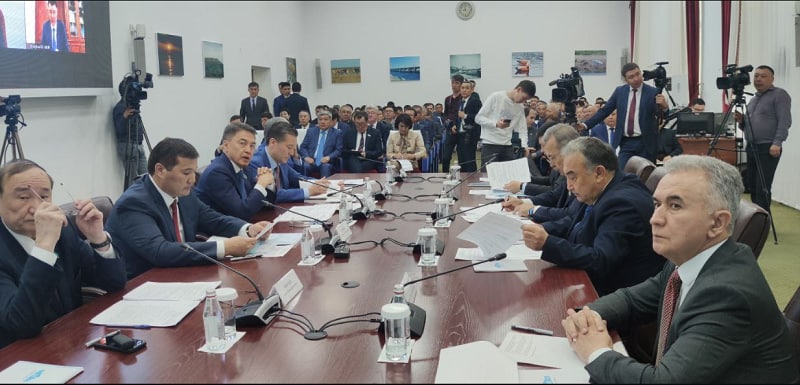 According to the information service of the upper chamber of the Parliament, on the first day of the visit, the representatives of the delegation toured the territory of the Aral Sea region and got acquainted with the state of the "Kukorol" dam. Detailed information was given on the measures taken to develop the water sector in the region, as well as to improve work to reduce water scarcity and develop forestry.
The members of the delegation also visited the "Aral SeeFood" fish processing plant in the Aral district of the Kyzylorda region, where they got acquainted with the activities of the enterprise and the ongoing work to develop fish farming.
On the second day of the visit, the second meeting of the Commission for Cooperation between the Senate of Oliy Majlis of Uzbekistan and the Senate of the Parliament of Kazakhstan took place in the Aral region.
The event was attended by parliamentarians of the two countries, representatives of the relevant ministries and departments of Kazakhstan, the International Fund for Saving the Aral Sea, the UN and the World Health Organization.
The meeting discussed issues of cooperation in the field of ecology, in particular, the implementation of joint programs and measures to restore the Aral Sea, protect its ecosystems, as well as new ongoing projects. Detailed information is also provided on measures aimed at improving the environmental situation in the Aral Sea region in Uzbekistan.
The importance of using the possibilities of inter-parliamentary cooperation in resolving topical issues relating to bilateral relations was especially emphasized. In particular, it was noted that solving environmental problems and counteracting the consequences of the Aral Sea tragedy are of strategic importance for both countries.
The parties agreed to conduct joint work on the further development of research activities in this direction and the promotion of the Aral Sea problem on a global scale and its inclusion in the agenda of upcoming joint events.
The need to strengthen parliamentary control over the activities of executive bodies in the implementation of national legislation and international obligations of each state in the field of environmental protection and improvement of the environment was emphasized.
An agreement was reached to hold the next meeting of the Commission in Uzbekistan at the end of this year.