The Embassy of Uzbekistan in the UK organized negotiations between the First Deputy Director of the Civil Service Development Agency under the President of Uzbekistan (ARGOS) Otabek Khasanov and the Chief Executive Officer of the British Civil Service Commission Peter Lawrence.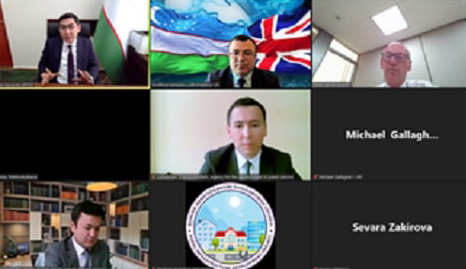 The Civil Service Commission is an independent government body that regulates civil service recruitment and ensures proper appointment to a position following a fair and open competition. Also handles complaints under the Civil Service Code. The commission was created in 1855 to eradicate corruption in the civil service.
The purpose of the talks is to establish working contacts between the leaders of the two structures, to study the British experience in this area.
The British side was informed about the large-scale reforms in Uzbekistan in the field of public sector development, the priorities for training highly qualified civil servants to ensure the effectiveness of the reforms being carried out in the country.
Representatives of ARGOS presented a presentation of their activities, priorities, tasks and powers to conduct a national policy in the field of civil service.
In turn, representatives of the Civil Service Commission said that through their 11 commissioners they propose candidates for high positions in British government organizations, such as secretaries of state, deputy ministers and directors of departments.
The Commission also considers applications and complaints from civil servants or candidates in order to protect their legitimate rights and interests. It is noted that currently in the UK civil servants are 500 thousand people. Another important task of the commission is to check civil servants for compliance with their positions, and provide an appropriate opinion within the framework of the Civil Service Code of 2010.
At the suggestion of the ARGOS leadership, the British side expressed its readiness to organize free online seminars for employees of the Uzbek agency on protecting the interests of civil servants based on the British Civil Service Code. The parties also agreed to organize an educational mission of ARGOS staff to London to study British experience in the field of selection of civil servants, creation of a personnel reserve, methodology for analyzing the civil service and others.