Russia's AI-80 gasoline has appeared in Uzbekistan's petrol stations. Uzbekneftgaz informed Kun.uz that contracts were signed with Russian companies for the import of 50,000 tons of AI-80 gasoline, and with business entities – 5,000 tons. Currently, the price of imported gasoline is 6,000-6,200 soums.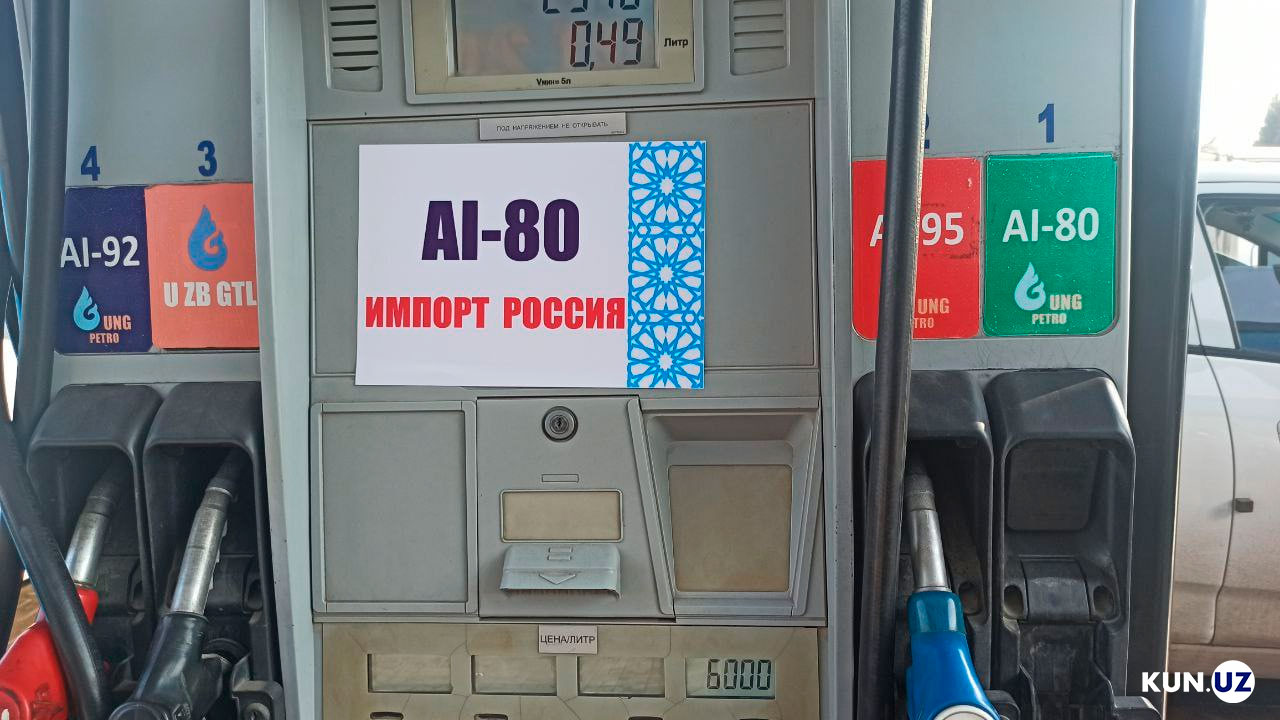 AI-80 gasoline imported from Russia is sold at Uzgazoil petrol stations in Uzbekistan.
Although Russia stopped the production of AI-80 gasoline, the appearance of imported Russian gasoline at the stations in Uzbekistan raised questions.
Kun.uz received a comment from the Uzbekneftgaz press service regarding the situation.
Until March 1, 2023, it is established to apply excise tax at the "zero" rate for the AI-80 gasoline product imported, produced by local enterprises and sold to final consumers by business entities.
"In December 2022 and January 2023, in the territory of the republic, the temperature dropped sharply and the restrictions on CNG filling stations were introduced, which caused the population's demand for AI-80 gasoline to increase sharply compared to the supply.
This, in turn, created shortages and traffic jams at petrol stations for cars.
Uzbekneftgaz JSC has started importing finished products along with local products produced at the Bukhara Oil Refinery in order to provide the needs of the republic's economic sectors and residents with high-quality and low-cost gasoline," the company said.
It was reported that in January of this year, contracts were signed with Uzbekneftgaz JSC and Russian companies such as Gazprom JSC, Tatneft JSC, ORSKNEFTEORGSINTEZ JSC on the import of 50,000 tons of AI-80 gasoline, and with business entities – 5,000 tons. Today, measures are being taken to deliver to the territory of the republic and sell to the domestic market.
According to preliminary calculations, taking into account the delivery of the product to the territory of the republic by rail transport and other costs, the starting price of the commodity for sale on the raw material exchange is 7,084,000 soums per ton, and the final price for sale to consumers in petrol stations is 6,000-6,200 soums per liter.