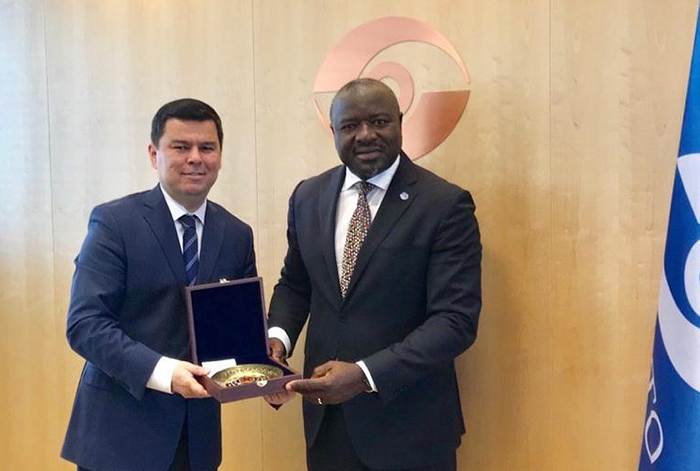 On April 18, 2019, the Permanent Representative of Uzbekistan to the OSCE, the UN Office and other international organizations in Vienna, Sherzod Asadov, met with the Executive Secretary of the Comprehensive Nuclear-Test-Ban Treaty Organization (CTBTO) Lassina Zerbo.
According to the MFA, at the meeting, the head of the CTBTO was informed in detail about the efforts of Uzbekistan in the field of non-proliferation. It is noted that the republic is among the first 10 states that has ratified the CTBT and regards this document as one of the most effective instruments to regulate nuclear proliferation and is in favor of the earliest entry into force of this Treaty. The attention is focused on the long-term work of Uzbekistan and other Central Asian states on the creation of a Nuclear Weapon Free Zone in the region. The signing of the CANWFZ Treaty on the initiative of Uzbekistan was the first concrete result of the joint efforts in countering nuclear threats and challenges.
During the conversation, Lassina Zerbo praised the dynamically developing cooperation of Uzbekistan with international organizations in the field of nuclear safety, including the CTBTO, the IAEA and others. He noted that he is watching with interest the positive changes taking place in Uzbekistan and the dynamic reforms carried out under the leadership of President Shavkat Mirziyoyev. The initiative to build a nuclear power plant in Uzbekistan was particularly emphasized.
The CTBTO Executive Secretary assured that the organization he represents will continue to make every effort to counter nuclear testing and preserve peace. The Nuclear Weapon Free Zone in Central Asia will influence outside the region, giving positive impulses and removing possible threats.
Hope was expressed for further deepening of practical interaction of the CTBTO with partners in Tashkent, in particular through the Institute of Seismology at the Academy of Sciences of Uzbekistan, which is the national coordinating body of the republic for interacting with CTBTO and included in a unified system for notifying geological changes.
Following the meeting, an agreement was reached on the preparation for the visit of Lassina Zerbo to Uzbekistan and the organization in the republic together with the CTBTO a number of joint international events in the field of disarmament and non-proliferation.