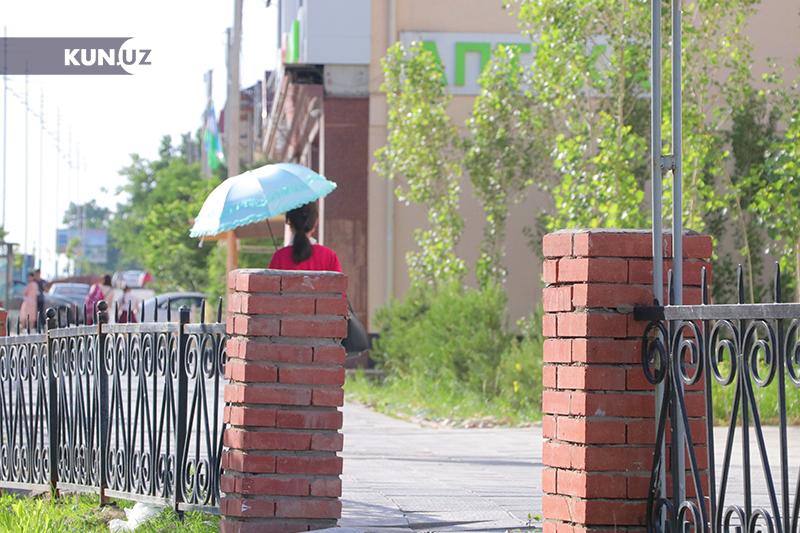 According to Uzgidromet, the temperature will hit peak in July.
During this period, the territory of Central Asia, including Uzbekistan, is under the influence of blurred frontless areas of reduced pressure. Continental tropical air masses with high temperature and low moisture content are formed over hot deserts, which determines low-cloudy, dry and hot midsummer weather.
So, in the current and the first half of the next week hot weather is expected in the territory of the republic, which is characterized as the summer peak in Uzbekistan.
Air temperature on July 8-10 during daytime hours will be around 37-40°C, in the south and the desert zone - up to 42°C.
In the future, heat is expected to increase, the air temperature will be within the range of 24-27°C, in the daytime 39-42°C, in the south and the desert zone at night - up to 30-32°C, in the afternoon - up to 43-44°C, which is 5-7°C higher than the average standards for midsummer.
It should be recalled that the July of 2018 was one of the hottest months in many regions of Uzbekistan, including the city of Tashkent. In some parts of the country, new temperature records were set.
In Tashkent, the highest air temperature in July last year was 43°C. A record maximum temperature for all the years of meteorological observations in Tashkent was recorded on July 18, 1997, when the air temperature was 44.6°C.