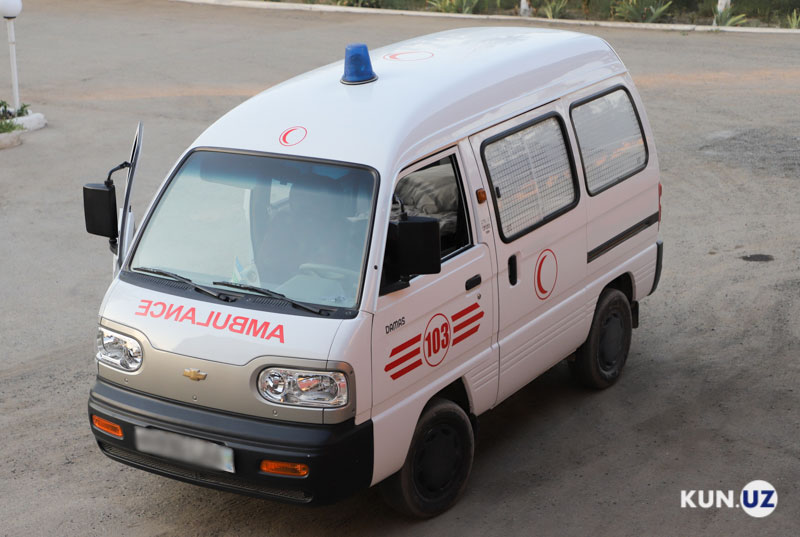 According to the Ministry of Health, on October 16, 2019, at 08:28, the call center of the Karshi branch of the Republican Center for Emergency Medical Aid (RCEMA) received a call from a resident, living on the Depo Street of the city of Karshi, who reported that a 52-year-old woman lost her consciousness.
An ambulance crew consisting of a doctor (female), a paramedic and a driver departed for the indicated address urgently (at 08:36). The crew arrived at the address as early as 08:42, but they were met with abuse and threats.
The doctor, checking the pulse of the patient, felt an unnaturally low body temperature. The pulse on her neck was not palpable, there was no breathing, the pupils did not respond to light. The doctor recorded the biological death of the patient and reported this to the paramedic who was standing next to her. At the same moment, two men standing behind began to beat both the medical assistant and the doctor. As a result of the beating, the paramedic lost his consciousness, and the doctor received multiple bodily injuries. The ambulance driver, together with another resident of the house, took the doctor and paramedic into the car and drove them to the RCEMA.
According to the diagnosis, the paramedic received a closed head injury, concussion, bruises on the chest, back and occipital part of the head.
The female doctor was diagnosed with a closed head injury, concussion, soft tissue bruises.
The body of the deceased woman was brought to the medical center by her relatives. Doctors stated that the patient had died more than an hour ago.
On the fact of the beating of medical workers, the leadership of the RCEMA appealed to law enforcement bodies. Currently, law enforcement bodies are conducting a pre-investigation check.
The Ministry of Health draws attention to the fact that the crew arrived on the call in just 6 minutes and it was not possible to save the already dead woman. Assault and serious injury to medical personnel cannot be justified. In recent years, the number of such attacks has been growing. Therefore, the Ministry of Health initiated a review of amendments to the legislation on liability for an attack on medical workers in the performance of their official duties. The bill for such offenses provides for restriction of freedom from 3 to 5 years, or imprisonment for the same period. Currently, this bill has already passed the first readings in the country's parliament.