The opening ceremony of the world's largest International Handicraft Festival Surajkund Mela, where Uzbekistan is a partner country, was held in the Indian city of Faridabad, Haryana. The ceremony was attended by President Ram Nath Kovind, Chief Minister of the State of Haryana Manohar Lal Khattar, governors of the states of Haryana and Himachal Pradesh, diplomats, the mass media as well as representatives of 40 countries participating in the festival.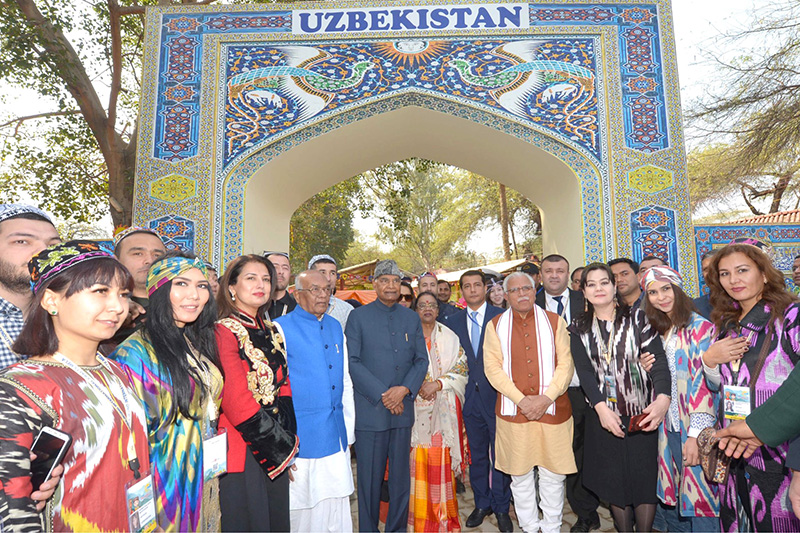 Uzbekistan was represented by ensembles of Samarkand, Khorezm and Bukhara. Indian President Ram Nath Kovind separately visited the pavilion of Uzbekistan to familiarize himself with the exposition of handicrafts and applied art of the country, he talked with artisans from Uzbekistan.
Speaking at the opening ceremony, the President of India noted that the Surajkund Mela Festival was an excellent opportunity to personally experience the rich culture and traditional art of Uzbekistan.
"India and Uzbekistan have deep cultural and diplomatic relations. A close partnership in the field of culture and art brings people together, strengthening friendship and warm feelings".
In addition, Indian PM Narendra Modi on his Twitter account thanked Uzbekistan for participating in the largest handicraft festival: "Happy to have Uzbekistan as Partner Country in the Surajkund Mela, inaugurated by Rashtrapati Ji. I sincerely thank President Mirziyoyev for his leadership on such initiatives that make India-Uzbekistan relations even stronger," he said, sharing photos from the opening ceremony.
A number of high-ranking officials of India also spoke at the opening ceremony, each of whom noted the importance of Uzbekistan's participation as a partner country and actively developing cultural relations between the parties.
The Ambassador Extraordinary and Plenipotentiary of Uzbekistan to India Farkhod Arziyev, in his speech, noted the followings:
"We express our gratitude to the leadership of India for inviting Uzbekistan, as well as for the hospitality extended to our delegation. Uzbekistan's participation as a partner country in Surajkund Mela is very symbolic, as last year Uzbekistan introduced the world to its festival – the International Festival of Folk Arts and Crafts in Kokand. By supporting and promoting handicrafts, we are creating new bridges for cultural interaction, helping the young generation use creative thinking, and demonstrate the best that is in the heritage of our countries".
The delegation of Uzbekistan consists of about 100 representatives, including representatives of the "Khunarmand" Association, craftsmen, designers and jewelers from all regions of Uzbekistan, musicians, folklore groups and cooks from Samarkand, Bukhara and Khorezm.
The festival will continue until February 16, 2020. 40 countries of the world and almost all states, as well as historical, cultural, tourist regions of India represent their pavilions.