U.S., Taliban sign historic peace deal in Doha
The U.S. and Taliban have signed a historic agreement, which would set into motion the drawdown of U.S. troops from Afghanistan and potentially pave the way to ending America's longest-fought war.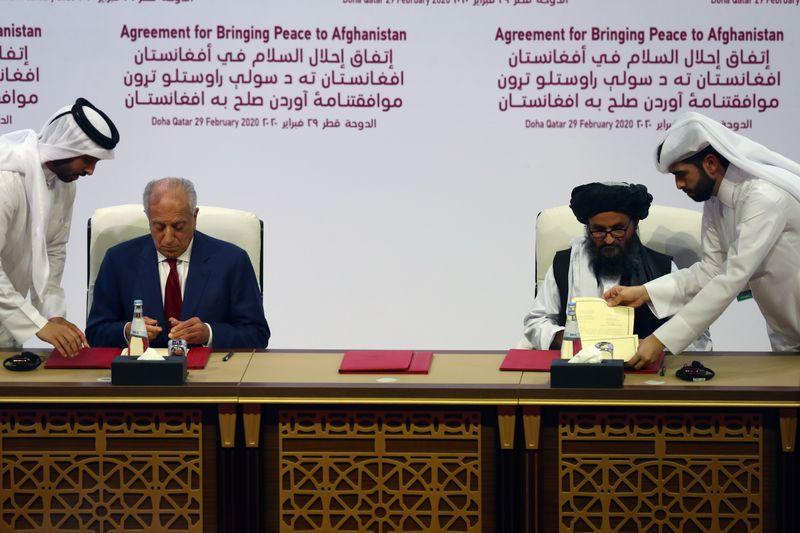 The agreement was inked in Doha, Qatar, by U.S. Special Representative for Afghanistan Reconciliation Zalmay Khalilzad -- the chief US negotiator in the talks with the Taliban -- and Mullah Abdul Ghani Baradar -- the Taliban's chief negotiator, CNN writes.
The U.S. Secretary of State Michael Pompeo witnessed the signing.
Speaking at the ceremony, Pompeo said the U.S. "will closely watch the Taliban's compliance with their commitments, and calibrate the pace of our withdrawal to their actions."
"This is how (we) will ensure that Afghanistan never again serves for international terrorists," Michael Pompeo said.
U.S. Secretary of Defense Mark Esper was in Kabul, Afghanistan, on Saturday for a joint declaration ceremony with Afghan President Ashraf Ghani.
According to Afghanistan's national security adviser Hamdullah Mohib, the joint US-NATO-Afghan declaration includes an 18-month withdrawal of foreign troops.
"But it is conditional on the agreement between the Taliban and the United States. If those conditions are not met, this date will also change," he said.
It should be noted that the Foreign Minister of Uzbekistan Abdulaziz Kamilov also attended the signing ceremony of the agreement as an observer in accordance with the official invitation of the parties.