Passenger train conductor tries to smuggle 10 kg of jewelry worth 200 million soums into Uzbekistan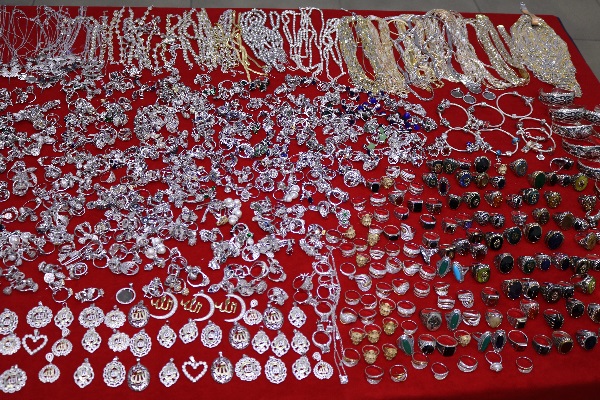 As a result of joint operative-search activities conducted by employees of the Anti-smuggling and combatting customs violations department of Tashkent, the Keles border railway customs post and the State Security Service, an attempt to illegally import jewelry items had been prevented, the State Customs Committee reported.
During the operational event, a passenger train arriving at the Central Railway Station was taken under surveillance. After stopping, the conductor of one of the carriages, a citizen of the neighboring state J. A., got off the train and walked towards the exit from the railway station. He handed over two travel bags to citizen M. A., who was waiting for him at the appointed place.
They were detained by officers at the time of the transfer and receipt of the bags.
As a result of the inspection, 1,034 units of silver jewelry items with a total weight of 9,816 grams worth 201 million soums, as well as 590 pairs of false eyelashes were found in the bags.
According to the current procedure, there are limits for duty-free import of certain types of goods into the territory of our republic. In particular, the weight of the jewelry, imported by individuals, made of precious metals and stones, should not exceed 65 grams.
Currently, customs checks are underway on the fact of violation.