Medical workers in Syrdarya receive incentive payments after intervention of Prosecutor's Office
Only after the intervention of the Prosecutor General's Office did health-care workers combating coronavirus in the Syrdarya region receive their incentive payments.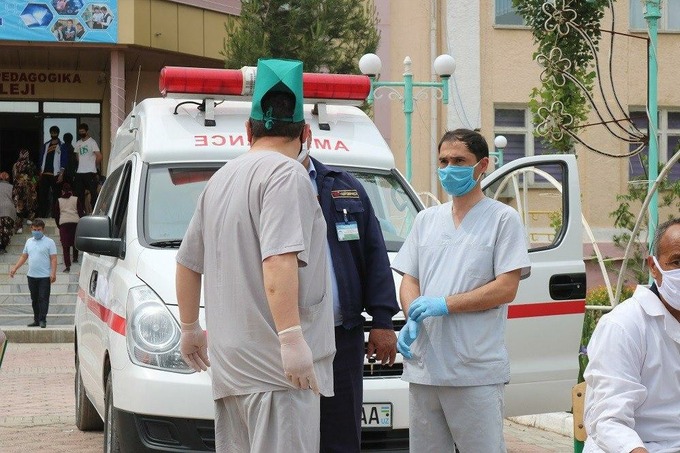 According to UzA, the Prosecutor General's Office had studied whether or not medical personnel in the Syrdarya region were paid incentive payments during the quarantine.
It was identified that in the area: 2,868 people were quarantined, 44 had a coronavirus infection, 43 had recovered and one had died.
A total of 235 doctors, 459 middle category, 155 lower category nurses and 139 other workers were involved in quarantine activities. Although some work has been done in this direction, the incentive payments have not been paid on time.
It should be reminded that in accordance with the Presidential decree of March 19, 2020, "On priority measures to mitigate the negative impact of the coronavirus pandemic and global crisis on the economy", a daily supplement of 6 percent of the monthly salary was paid to medical, sanitary, epidemiological and other workers for the period they are working to counter the spread of the coronavirus infection.
According to a temporary regulation approved by a decision of the Special Republican Commission, the daily supplement must be issued every five days. For every 14 days of operation, a special supplemental incentive payment has been established pursuant to a presidential decree "On additional measures to support medical and epidemiological personnel involved in counteracting the spread of the coronavirus infection".
The incentive payments were not paid in time because the heads of the Regional Health Administration, the District Medical Associations and the Center for Sanitary and Epidemiological Wellbeing did not promptly submit a request to the financial authorities.
The survey revealed that 1,473 workers did not receive a total of 2.5 billion soums, while the issue of providing 1,264 workers with a bonus payment of 1.6 billion soums was not even addressed. 32 workers were not paid 488.5 million soums of incentive payments, as were not 48 employees whose case was not even considered.
After the intervention of the Prosecutor General's Office, 5.6 billion soums were distributed to workers.