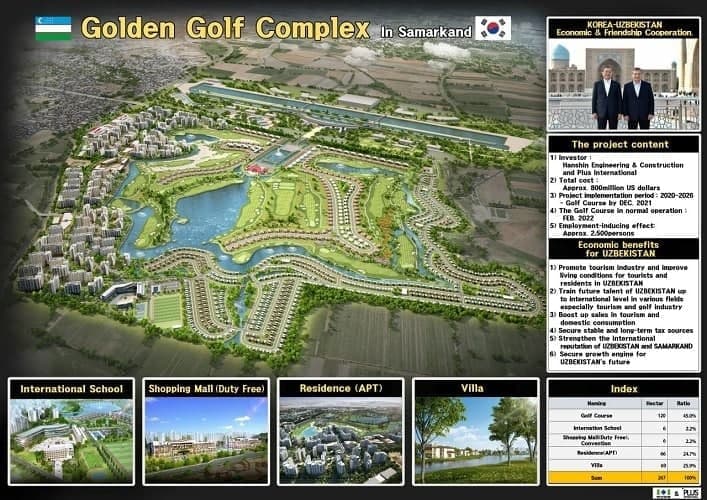 South Korean Hanshin Engineering & Construction is planning three large projects in Uzbekistan, Dunyo IA reported.
"Kokand City" complex
The complex is planned to be built on an area of 34 hectares. The delegation of the company visited the Fergana region in November 2020, where it held a meeting with suppliers of building materials and examined the allocated area.
Joint Design Institute
Together with the Ministry of Construction, the issue of creating a joint design institute is being worked out on the basis of Qishloqqurilishloyiha LLC, Toshuyjoyliti JSC and Uzogirsanoatloyiha JSC. The company may even buy government shares in these institutions.
Golf complex
The project is estimated at $800 million. It is expected to cover an area of 270 hectares. Of these, 194 hectares will be occupied by golf courses and residential premises for visitors, 6 hectares – an international school, 7 hectares – a shopping, entertainment and exhibition complex, 55 hectares – a multi-storey residential complex and other infrastructure.
The concept of the project was presented in November 2019 to the khokim of Samarkand region Erkinjon Turdimov and the Ministry of Investments and Foreign Trade. The company is waiting for a response to start work.
All three projects are planned through direct investment. A visit of a delegation of the company is planned for February to continue negotiations with the Uzbek side.