Freedom House, an international human rights organization, has released its traditional annual report on the level of freedom in the world for 2020. In the new ranking, Uzbekistan earned 11 points out of 100, remaining among the "not free" countries.
Political rights in Uzbekistan are rated at 2 out of 40, and civil liberties – at 9 out of 60, totaling 11 points. In terms of Internet freedom, Uzbekistan scored 27 points.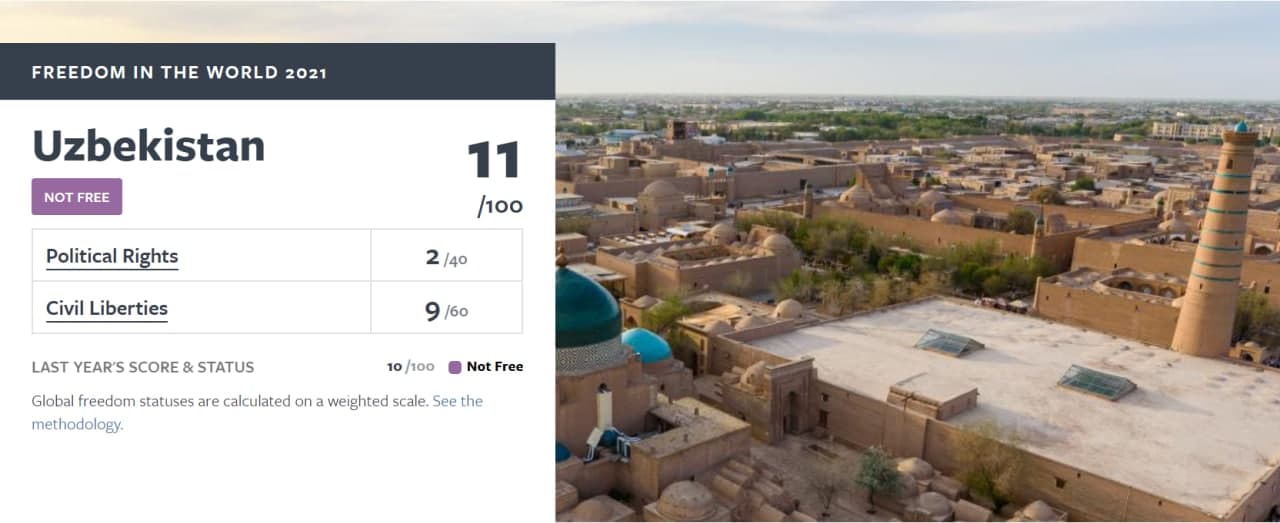 In 2019, Uzbekistan scored 10 points on a 100-point scale and was among the "not free" countries.
According to the results of 2020, the top places in the ranking were taken by European countries – Finland, Norway and Sweden with a maximum of 100 points. Tibet and Syria with 1 point each, Turkmenistan, Eritrea and South Sudan – 2 points each and North Korea – 3 points were at the bottom in the ranking.
Other Central Asian states – Tajikistan (8 points), Kazakhstan (23 points) and Kyrgyzstan (28 points) are also included in the list of "not free" countries. Kyrgyzstan was among the countries that were partially free last year. But Freedom House downgraded the country after violating citizens' political rights in last year's parliamentary elections.
On the Asian continent, South Korea, Japan and Mongolia are listed as free countries.
The traditional Freedom House survey covered 195 countries and 15 regions this year. 82 states and 1 region (green on the map) are completely free, 59 states and 4 regions (yellow) are partially free. 54 states and 10 territories (purple) are included in the list of not free.