From flowering tree plantations that will grow a beekeeping industry to women-centered training in natural resource management to the restoration of salt-dried landscapes – these are some of the disruptive innovations that won the grand prize in the Global Disruptive Tech Challenge 2021: Restoring Landscapes in the Aral Sea Region.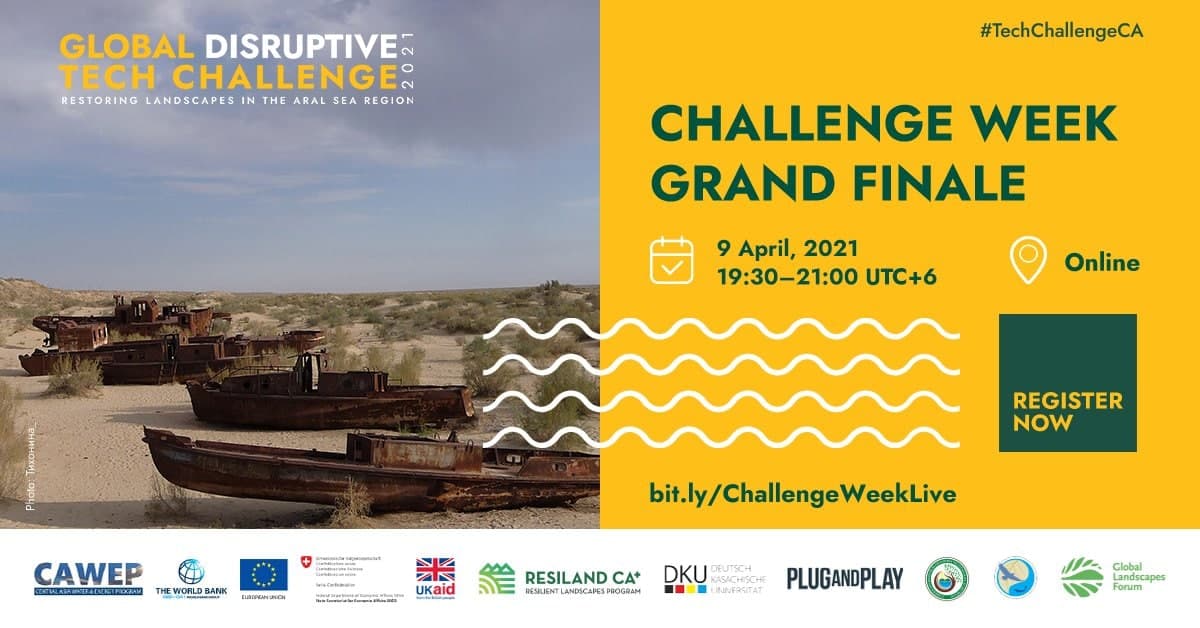 The four grand prize winners were announced on April 9 during a virtual ceremony hosted by the World Bank, in partnership with the Global Landscapes Forum (GLF), the Kazakh-German University (DKU), and Plug and Play (P&P), the WB press release reads.
A total of 159 proposals were submitted to the competition from 28 countries across five continents, with more than half of the proposals from Central Asian republics. A distinguished panel of 42 experts from the World Bank and partner organizations from across the globe evaluated the submissions and nominated 24 leading projects.
"Today's winners represent the culmination of many months of work developing and evaluating the most innovative and cutting-edge proposals," noted Steven Schonberger, World Bank Regional Sustainable Development Director for Europe and Central Asia. "Going forward, we are committed to continuing to nurture, strengthen, and showcase these innovations and to building strong partnerships among entrepreneurs, investors, educational institutions, civil society, and governmental organizations, in order to have a long-lasting positive impact on Central Asia region and beyond."
Launched in November 2020, the Disruptive Tech Challenge aimed to identify cutting-edge solutions to address land degradation and desertification challenges in the Aral Sea region. Once the fourth largest lake in the world, the Aral Sea has almost disappeared. With the support of the World Bank and its partners, the governments of Kazakhstan and Uzbekistan are making great strides in mitigating the environmental damage to the Aral Sea.
"By bringing the Aral Sea issue into the focus of the world's creative minds, our goal was to crowdsource new solutions to combat land degradation in the Aral Sea," said Lilia Burunciuc, World Bank Regional Director for Central Asia. "It is great to see how the Global Disruptive Tech Challenge has drawn global attention to this local problem and has stimulated creative minds globally to propose innovative solutions."
The winning projects are:
Agriculture and Land Management: A landscape restoration process, built on using local sediments and waste materials to stabilize dry salty lands developed by NETICS B.V. of the Netherlands. The company's patented GEOWALL® process is designed to prevent toxic soil from being carried by winds away from the damaged Aral Sea basin.
Sustainable Forestry: The Aral Honey Gardens proposal from Uzbekistan envisions planting flowering trees to develop a beekeeping industry that brings about jobs and income, along with reforestation.
Socio-Economic Development: The Tajikistan Women Water Forum's initiative empowers rural women through online technologies, mentoring, and training in water and land management. It aims to connect with projects in Kazakhstan, the Kyrgyz Republic, and Uzbekistan.
Information and Knowledge: The Sentinels for Sustainable Pasture Management app by kartECO-Environmental and Energy Engineering Consultancy of Greece is an online cloud-based system that aims to protect grasslands and reduce rangeland destruction across Central Asia.
Each grand prize proposal was awarded $5,000 and mentorship for its contribution to restoring the Aral Sea.
Runners-up in the Tech Challenge each won $1,000 and were recognized in the Rising Star category:
Agriculture and Land Management: Nutritive Hydrogel for water preservation plus land and soil aeration, from the Kyrgyz Republic.
Sustainable Forestry: A sea within a seed: Regenerative agroforestry solutions for landscape restoration, Uzbekistan.
Socio-Economic Development: Aral Basin news on the YouTube channel "Land and Water CA", Germany.
Information and Knowledge: (Shared) Remote sensing of degraded lands using drones to assess crop germination and monitor quality, Kazakhstan; PRO-access, providing open-access information services for better land and water management, The Netherlands.
In preparation for Challenge Week, the 24 finalists received extensive training on business and networking with international experts in a series of virtual events, round-tables, lectures and discussions.
"These creative ideas will help to spark a revival in the Aral Sea basin and demonstrate that we all have the power to make significant changes in the world, including confronting the enormous global challenges of climate change," said Barbara Janusz-Pawletta, Vice-rector for International Cooperation of the Kazakh-German University (DKU).
"Sustainability is one of the biggest trends nowadays and we are seeing a growing need for innovative environmental solutions," said Mike Zayonc, Vice President of Plug & Play. "We strongly believe that the solution to the problems in the Aral Sea can partly be found through entrepreneurship and the involvement of start-ups. That is why we partnered with the Global Disruptive Tech Challenge. We would love to explore investment opportunities among the winning teams and help them scale their solution to a global level."