Carrefour incentivizes its customers to live and shop more sustainably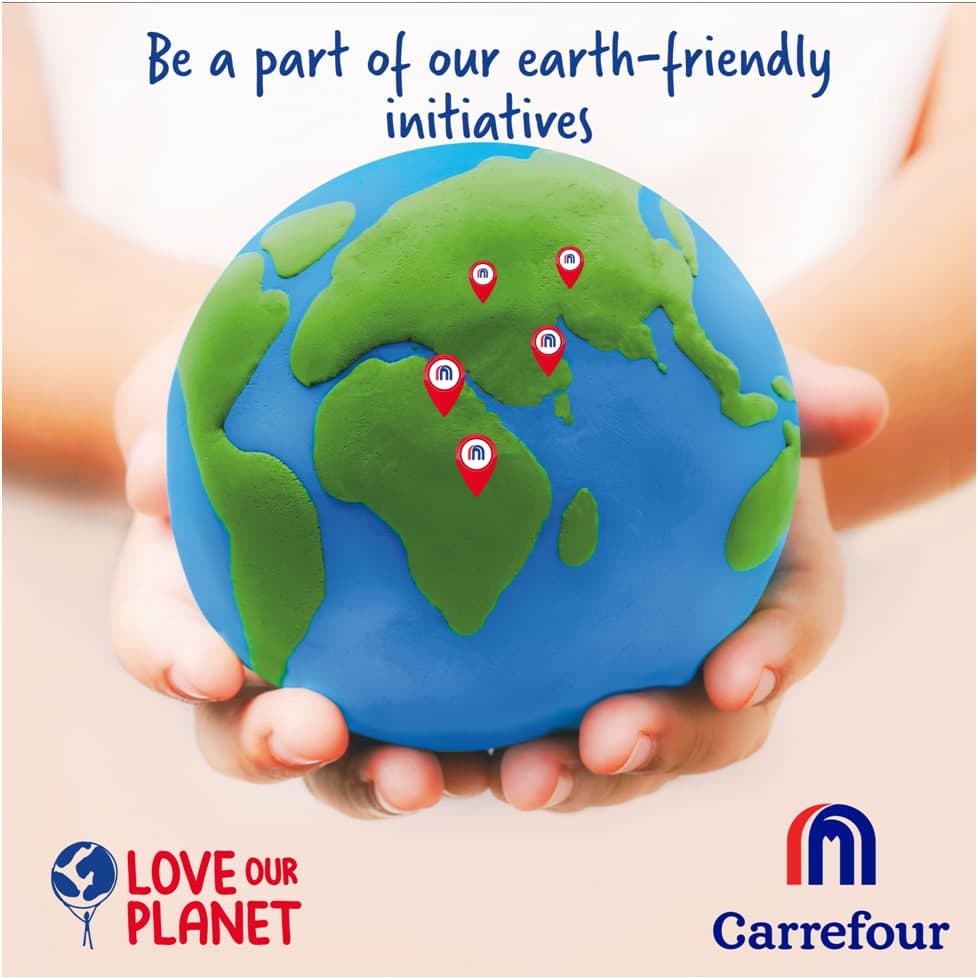 Tashkent, Uzbekistan, 03 July 2021: To coincide with International Plastic Bag Free Day on 3 July, Carrefour, owned and operated by Majid Al Futtaim in Uzbekistan, announced the launch of its "Love Our Planet" campaign to encourage customers to lead a more sustainable lifestyle.
Throughout July, Carrefour Uzbekistan is leading multiple initiatives that encourage customers to reduce their use of single-use plastics, for each reusable bag purchase made from 3 to 31 July, customers will receive 1,000 MyClub points and earn points every single time they bring and use their reusable bag.
The second initiative as part of the "Love Our Planet" campaign is encouraging the community to hand over the bottle caps they have at home in a mall to be disposed of responsibly in partnership with the State Committee of Uzbekistan on Ecology and Environmental Protection. In each store, there is a dolphin sculpture which will steadily be filled with the donated bottle caps, creating a striking visual representation of the scale of the issue of plastic waste and the animals it threatens. At the end of the campaign, the Committee will dispose of the bottle caps and plastics in a responsible way, avoiding them entering the ocean and the wider environment.
Dolphin's Photo
Gyu Taeg Kim, Country Manager of Carrefour Uzbekistan at Majid Al Futtaim Retail, said: "At Carrefour, we believe it is our responsibility to educate our customers about the importance of shopping and living sustainably for the betterment of our planet. With more and more customers adopting more sustainable practices into their everyday lives, our aim is to provide them with environmentally friendly alternatives to everyday items. As part of the Majid Al Futtaim ecosystem, we set the standard for being a sustainable, responsible, self-sufficient business. And as we expand, we are continuously exploring ways to conduct our operations in an environmentally and socially responsible manner in line with our sustainability and corporate citizenship strategy while helping to uplift our surrounding communities."
As part of the sustainability strategy, Carrefour strives to set the standard for being a sustainable and responsible brand. As such, from the first days of opening Carrefour Uzbekistan eliminating plastic bags from its cash counters encouraged customers to make use of eco bags, paper and reusable bags. From January to June 2021, more than 230,000 reusable bags have been sold. Carrefour Uzbekistan also introduced a dedicated ''Green Checkout'' counter, which encourages customers to shop with reusable bags.

To celebrate the International Plastic Bag Free Day, Carrefour Uzbekistan also announced an art competition around the topic "Love Our Planet with Carrefour" on its official Facebook page. The competition, aimed at school children, invites users to upload their child's drawing in the comments of the post with the hashtag #LoveOurPlanetwithCarrefour. Photos will be accepted until July 20, and a small photo exhibition of the contestants will be held at the Carrefour Karatash branch on July 21-30, where each customer will be able to vote for a photo they like. On July 31, the author of the photo with the most votes will be declared the winner and will receive a prize.
Majid Al Futtaim, the leading shopping mall, retail and leisure pioneer across the Middle East, Africa and Central Asia, has developed a company-wide and cross-market strategy to eliminate single-use plastics from all of its businesses by 2025.
To learn more about the sustainability initiatives, please visit: www.carrefouruzbekistan.com
-ENDS-
Media Contact:
Dilfuza Ruzmetova– Communications Manager
E: druzmetova@mafcarrefour.com
M. +998 901321416
About Carrefour
Carrefour was launched in the region in 1995 by UAE-based Majid Al Futtaim, which is the exclusive franchisee to operate Carrefour in over 30 countries across the Middle East, Africa and Asia, and fully owns the operations in the region. Today, Majid Al Futtaim operates over 350 Carrefour stores in 17 countries, serving more than 750,000 customers daily and employing over 37,000 colleagues.
Carrefour operates different store formats, as well as multiple online offerings to meet the growing needs of its diversified customer base. In line with the brand's commitment to provide the widest range of quality products and value for money, Carrefour offers an unrivalled choice of more than 500,000 food and non-food products, and a locally inspired exemplary customer experience to create great moments for everyone every day. Across Carrefour's stores, Majid Al Futtaim sources over 80% of the products offered from the region, making it a key enabler in supporting local producers, suppliers, families and economies.
Please follow us on
Facebook: facebook.com/carrefouruzbekistan
Instagram: instagram.com/carrefouruzbekistan
Telegram: t.me/carrefouruzbekistan
About Majid Al Futtaim
Founded in 1992, Majid Al Futtaim is the leading shopping mall, communities, retail and leisure pioneer across the Middle East, Africa and Asia.
A remarkable business success story, Majid Al Futtaim started from one man's vision to transform the face of shopping, entertainment and leisure to 'create great moments for everyone, every day'. It has since grown into one of the United Arab Emirates' most respected and successful businesses spanning 17 international markets, employing more than 43,000 people, and obtaining the highest credit rating (BBB) among privately-held corporates in the region.
Majid Al Futtaim owns and operates 28 shopping malls, 13 hotels and four mixed-use communities, with further developments underway in the region. The shopping malls portfolio includes Mall of the Emirates, Mall of Egypt, City Centre malls, My City Centre neighbourhood centres, and five community malls which are in joint venture with the Government of Sharjah. The Company is the exclusive franchisee for Carrefour in over 30 markets across the Middle East, Africa and Asia, operating a portfolio of more than 350 outlets and an online store.
Majid Al Futtaim operates more than 500 VOX Cinemas screens as well as a portfolio of world-class leisure and entertainment experiences across the region including Ski Dubai, Ski Egypt, Dreamscape, Magic Planet, Little Explorers and iFLY Dubai. The Company is parent to the consumer finance company 'Najm', and a Fashion, Home and Specialty retail business representing international brands such as Abercrombie & Fitch, Hollister, AllSaints, lululemon athletica, Crate & Barrel, Maisons du Monde, LEGO and THAT, a Majid Al Futtaim fashion concept store and app. In addition, Majid Al Futtaim operates Enova, a facility and energy management company, through a joint venture operation with Veolia, a global leader in optimised environment resource management.
Please follow us on
YouTube: youtube.com/user/majidalfuttaim
Twitter: twitter.com/majidalfuttaim
LinkedIn: linkedin.com/company/majid-al-futtaim
Facebook: facebook.com/MajidAlFuttaim
Instagram: instagram.com/majidalfuttaim
Medium: medium.com/@Majid.AlFuttaim
As an advertisement