Recently, a video appeared on the network that was filmed at the Zangiata infectious diseases hospital. The footage shows how some people who have contracted the coronavirus are in a very serious condition. The hospital's intensive care unit has become a battlefield.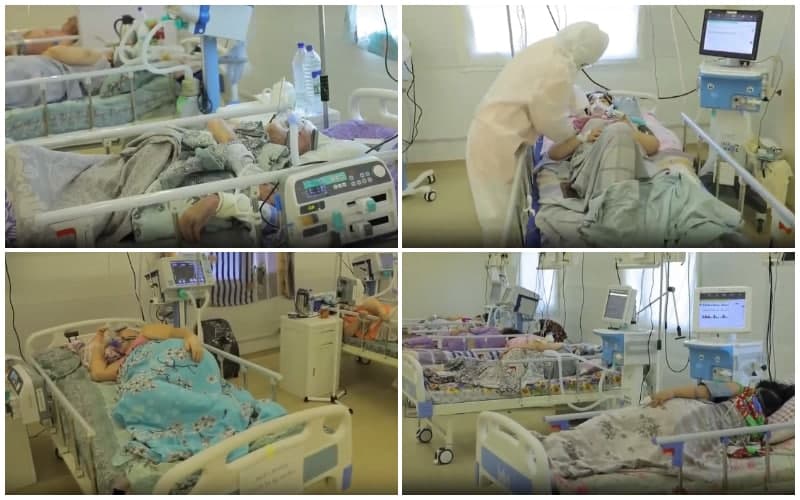 "Another patient was brought to the hospital. She is in shock. The woman is pregnant and she was taken to the intensive care unit," the report of the "Uzbekistan 24" TV channel says.
The intensive care unit of the Zangiata infectious diseases hospital turned into a battlefield.
"This patient has a confirmed delta strain of coronavirus. 75-80% of the lung volume was negatively affected. He self-medicated, thinking that it was the flu. We have been treating him for the sixth day, but there is no effect, because the lungs are badly affected. In short, he is one of the patients who is fighting death," Obid Karimov, head of the intensive care unit, said.
One of the patients told his story.
"My lung damage has reached 90%. For 20 days, I had been connected to the device, yesterday I was removed from the device. I feel much better now. There was no need to bring the situation to such a level, it was necessary to get a vaccine," he said.
Obid Karimov stressed that 98% of patients who were taken to the hospital did not receive the coronavirus vaccine.
"I thought I was going to die. The doctors saved me here. You have to believe the vaccine, you have to get the vaccine. Of course there is a benefit, the President helps us. The head of state wants people to understand this," one of the patients said.
Resuscitator Gavkhar Azizova spoke about a pregnant woman.
"Her health condition is grave. She was brought to the intensive care unit. They did an ultrasound, she has twins. We have provided the necessary first aid," she said.
Another resuscitator, Umarjon Sadiyev, recommended that citizens of Uzbekistan follow all quarantine rules and get a vaccine.
It should be recalled that earlier, the head physician of Zangiata infectious diseases hospital No 1 Anvar Khusanov addressed to the Uzbek people.