Today, the US Agency for International Development (USAID) donated 30 cutting-edge tuberculosis (TB) testing machines to the people of Uzbekistan.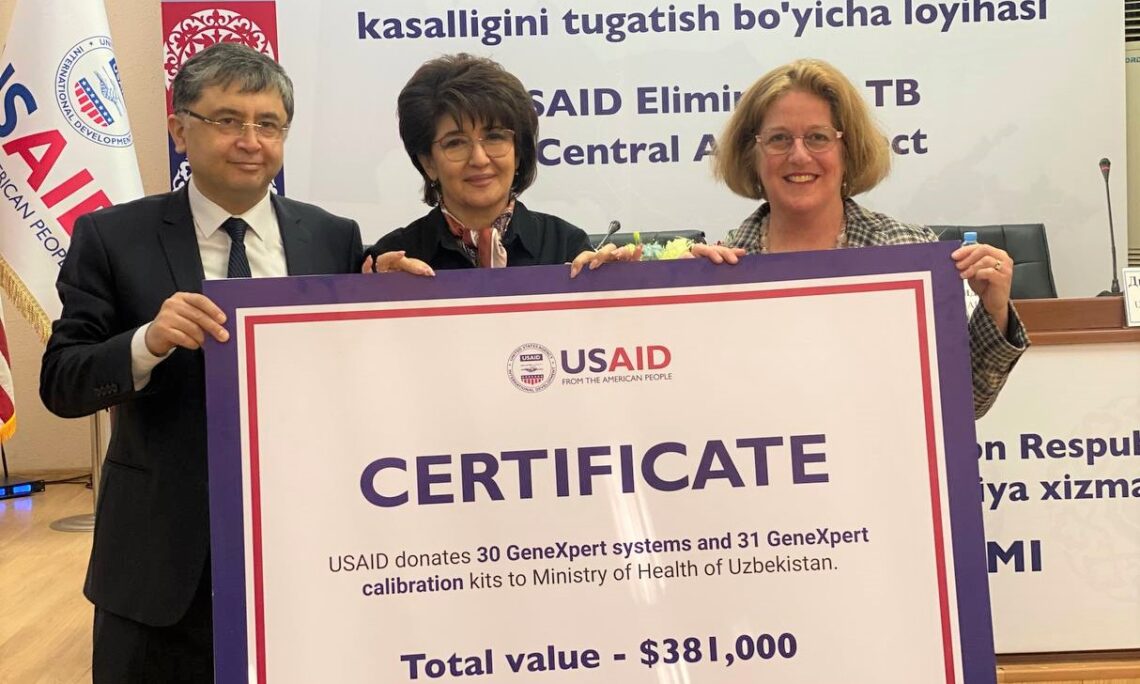 The equipment worth $381,000 was handed over by USAID Mission Director in Uzbekistan Mikaela Meredith to the Deputy Minister of Health Ulugbek Sabirov at the ceremony in the Republican Specialized Scientific and Practical Medical Center of Phthisiology and Pulmonology, the US Embassy in Tashkent said in a report.
Thanks to the joint efforts of the Ministry of Health, USAID, and international partners, Uzbekistan has made great strides in reducing TB cases and associated deaths. However, multidrug-resistant TB (MDR-TB) continues to be a significant issue in the country. USAID works to reduce the TB burden in Uzbekistan and Central Asia by building local and regional capacity to improve the detection and treatment of MDR-TB.
GeneXpert, an innovative technology introduced by USAID, makes on-demand molecular testing available to everyone with unprecedented speed and ease-of-use. The unparalleled efficiency and ease-of-use will add unseen value to primary health care to take full advantage of the speed and accuracy of molecular diagnostics. GeneXpert testing also checks whether a particular patient's TB case is resistant to rifampicin, an antibiotic frequently prescribed to treat tuberculosis, allowing doctors to choose a medication that will be effective for the patient.
"Today's event demonstrates the continued partnership between USAID and Uzbekistan to improve healthcare services in the region. We applaud Uzbekistan's leadership and commitment to eliminate TB by 2050, as demonstrated by its new National TB Strategy for 2021-2026, which aims to reduce the TB incidence rate by 50 percent and the number of TB deaths by 75 percent by 2025. Working together, we can improve the health and well-being of Uzbekistan's citizens," said Mikaela Meredith during the event.
The donation will enable the district TB laboratories to boost their services in the management of TB patients and significantly expand access of people in Uzbekistan to modern, rapid molecular testing for tuberculosis.