With the support of UNDP Uzbekistan, the Embassy of Uzbekistan in the Benelux countries, together with the Ministry of Employment and Labor Relations of our country, organized a visit to Denmark by a delegation of the Ministry of Labor on March 30 - April 1, a Dunyo correspondent reports.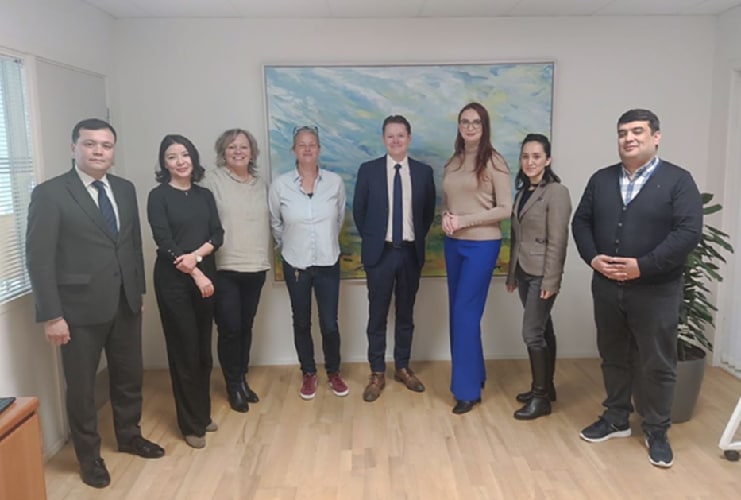 The Uzbek delegation met with the Deputy Permanent Secretary of the Ministry of Employment of Denmark, Wiebe West, and the chief adviser of this department, Thomas Mösted. The interlocutor presented the Danish model of the labor market, which is characterized by low unemployment rates, flexible regulations and developed social partnership.
The Danish side welcomed the efforts of Uzbekistan to ensure safe organized labor migration, noting the uniqueness of this approach for European countries.
Following the meeting, the parties agreed to continue the dialogue in a trilateral format with the participation of the Danish Ministry of Immigration and Integration in order to discuss the possibilities of organized recruitment of Uzbek workers.
The delegation of the Ministry of Labor also held a meeting with the special adviser of the Danish Labor Market and Employment Agency Christian Bak.
This agency is an authorized body for the development of legislation in the field of labor, the introduction of new measures to support employment, their implementation, support and control. One of its main areas of activity is the digitalization of labor relations and the analysis of the effectiveness of measures through the collection and processing of static data on the labor market.
The parties noted the importance of enhancing the role of local authorities in matters of employment, the introduction of new mechanisms for public-private financing of existing programs in the labor market, in particular, the possibility of subsidizing employers when hiring the unemployed.
During the meeting with the special adviser of the Ministry of Education of Denmark Charlotte Hansen, the Danish side presented the system of vocational education, special short-term training and retraining programs for the unemployed, as well as effective tools for vocational guidance for young people and internships at enterprises.
During the visit, the Uzbek delegation visited the largest technical college in Denmark - Technical Education Copenhagen (TEC), where they met with the leadership of this institution and got acquainted with the learning process.
Following the meeting with the head of the college department, Per Nörregaard, an agreement was reached on attracting TEC teachers to train trainers of the Vocational Training Centers under the Ministry of Labor, as well as the implementation of training materials and practical technologies in the educational processes of the "Ishga Markhamat" monocenters.