The Embassy of our country in Poland hosted a "round table" on the topic "Investments as a factor in ensuring inclusive economic growth in Uzbekistan" with the participation of the heads of large Polish manufacturing companies – potential investors.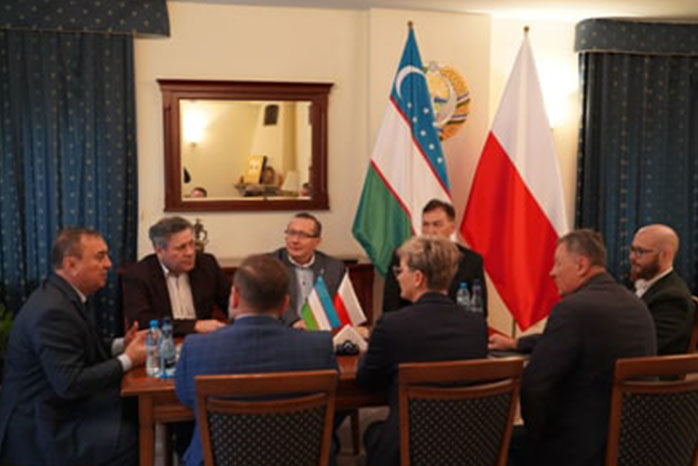 Ambassador Bakhrom Babayev informed the participants that the reforms implemented in recent years to liberalize the economy and its openness to the outside world create new, previously unused, opportunities for foreign and domestic investors to invest capital and create new enterprises.
The result achieved is largely due to the continued high level of investment activity. Along with this, a number of key problems and imbalances in the field of investment activity currently remain, requiring their prompt solution.
The participants shared their views on the investment climate in Uzbekistan and the stimulation of foreign investment in the country's economy.
The head of "Chem Trade Center" (production of chemical fertilizers), Pshemyslav Furmanovsky, noted that due to factors such as geographical location, population and the level of economic development, Uzbekistan is in the center of attention of Polish business circles. In this regard, the Polish side is interested in promoting all areas of bilateral cooperation. In his opinion, for successful inclusive growth of the economy of Uzbekistan, as well as in order to halve poverty by 2026, the country needs to form a viable private sector capable of creating more quality jobs.
Marek Svider, Deputy Head of the KGHM company (mining, processing and production of copper), expressed the opinion that in order for Uzbekistan to become one of the countries with upper-middle incomes by 2030, it is important to transform the role of the state, turning it from a producer of goods and services into an effective mechanism for developing markets. Besides, in his opinion, the most important condition is investing in the development of economic education, creating a sustainable platform for young entrepreneurs.
Janusz Piechochinsky, President of the "Poland-Asia" Chamber of Commerce and Industry, drew attention to the need to assist Uzbekistan in a successful transition to an inclusive and sustainable market economy, which will contribute to the active involvement of the private sector in the development of the economy, which means increased competition.
He noted the readiness to organize thematic seminars in Poland for young Uzbek businessmen, meetings and consultations with leading specialized experts on such issues as a methodology for launching and developing startups, market and strategy, product and development, marketing and sales, finance and accounting, legal and tax issues, etc.
The round table participants agreed to continue discussing similar topics in this format in order to prepare specific proposals for the further development of an inclusive and sustainable economy based on the experience of Poland.