A resident of Termez found a piece of yellow metal on the ground while watering his garden. He then turned to the Termez Museum of Archeology to define its value. A group of employees of the museum and the regional department of cultural heritage went to the site of the find and carried out an initial determination of the excavation area.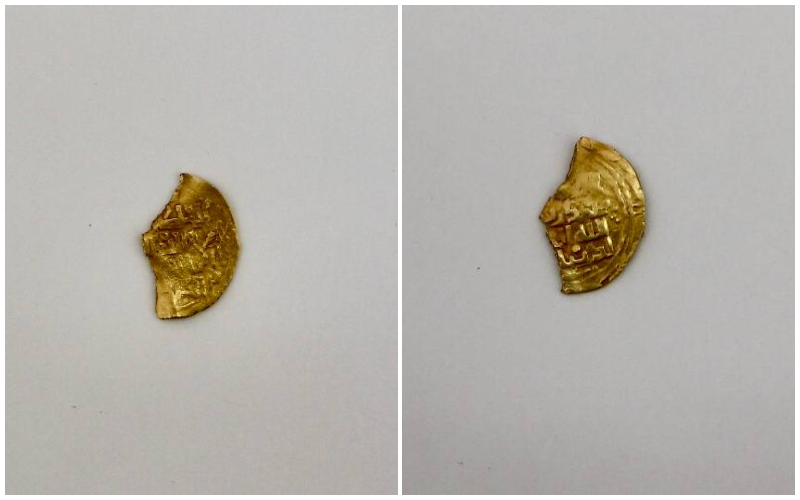 Fragments of ceramics of the Karakhanid and Seljuk eras were found in the area, the Ministry of Tourism and Cultural Heritage said.
Ulkan Eraliev, in accordance with the established procedure, handed over the valuable find to the Termez Museum of Archeology, after which he was paid the remuneration established by the current rules. Specialists and numismatists of the museum conducted a preliminary examination of the valuable find.
"On the obverse of the gold dinar, the museum's numismatist doctoral student Mansur Normuminov managed to read the words "Allah" and "Muhammad", as well as some letters of the Arabic alphabet. The text on the reverse of the coin was almost erased. A damaged but well-preserved coin - a gold dinar - weighed 1.92 grams. As you know, in Muslim countries, gold coins were called "dinar", silver - "dirham", said Tursunali Kuziev, First Deputy Director of the Cultural Heritage Agency.
Due to its strategic location, Termez often became the object of disputes and wars between empires. In the second half of the 10th century, the city became the site of a bloody confrontation between the Karakhanids and the Ghaznavids. Taking advantage of the fact that these rulers were already greatly exhausted by the war with each other, the Seljuk princes Togrulbek and Chagrilbek captured Termez and its environs.
This year, the Termez Museum of Archeology celebrates the 20th anniversary of its opening. For 20 years, this museum has not had a single gold coin. Now the museum has the first gold dinar - and immediately the rarest, from the Seljuk era.