The Embassy of our country organized online negotiations between the rector of the Banking and Finance Academy of Uzbekistan (BFA) Elmurod Khoshimov and the President and CEO of the Malaysian Global University of Islamic Finance (INCEIF) Azmi Omar.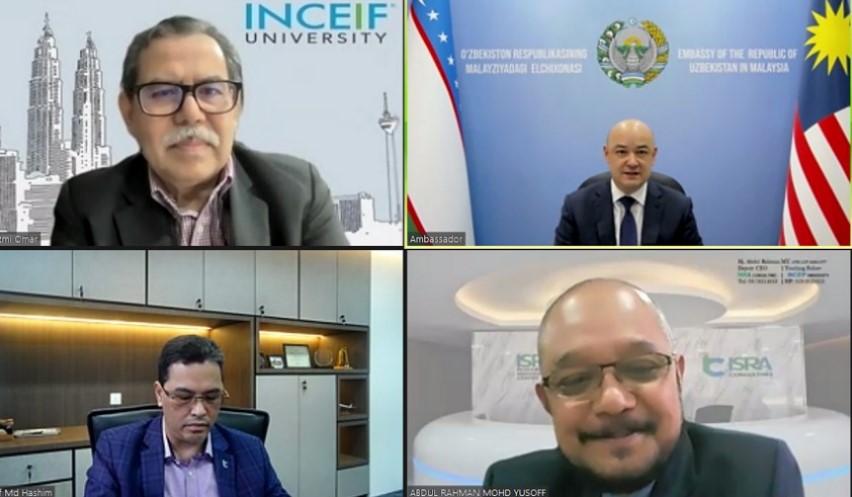 Video conferencing has become a logical continuation of the recent talks between Ambassador Ravshan Usmanov and the leadership of INCEIF.
The International Center for Education in Islamic Finance (INCEIF) was established by the Central Bank of Malaysia in 2005 to train specialists and experts in Islamic finance. In 2006, it was given the status of a university. Today INCEIF is known as the Global University of Islamic Finance, accredited by the Association to advance collegiate business schools. It is one of the world leaders in training and advanced training of specialists in Islamic banking.
The Malaysian University expressed its willingness to establish an exchange of best practices and organize advanced training programs to create an infrastructure for Islamic banking and finance, develop regulations for the implementation of insurance activities (takaful), securities transactions (sukuk) and other transactions based on principles of Islamic finance.
The parties expressed mutual interest in launching joint educational programs for issuing double diplomas in the field of Islamic finance, business administration, management, banking and digital economy, as well as conducting joint research projects.
Following the negotiations, agreements were reached on the development of individual short-term courses and trainings for the heads of the banking sector of Uzbekistan and teaching the BFA staff on Islamic finance tools and the creation of Islamic banking products, the organization of summer schools and internships for students and undergraduates of the BFA in Malaysia.
The parties also plan to agree on a draft Memorandum of Cooperation, as well as to organize a visit of the BFA delegation to Malaysia in the 3rd-4th quarter.