In particular, DP World will implement international law to attract investors to the zone.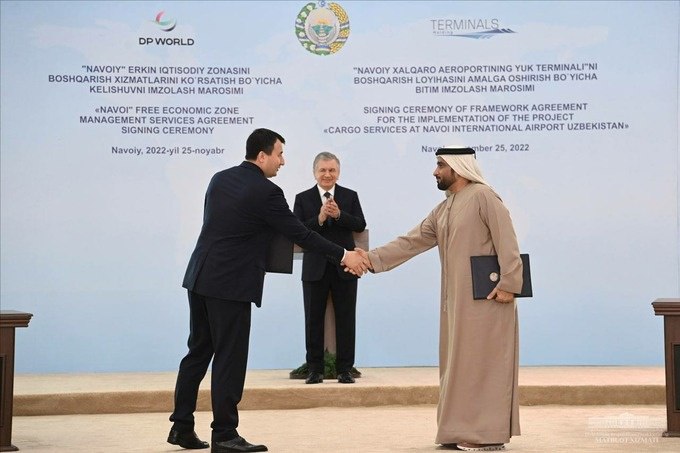 Investors from the UAE will manage the Navoi Free Economic Zone and the cargo terminal of the Navoi city airport, Spot reported with reference to the presidential press service.
The relevant agreements were signed on November 25 in the presence of Shavkat Mirziyoyev. The Navoi FEZ is transferred to the Dubai company DP World, and the airport terminal will be managed by Terminals Holding.
DP World will attract large foreign investors and manufacturers to the FEZ. To this end, it is planned to introduce international rules of law that meet the needs of foreign business.
In turn, Terminals Holding was tasked with increasing the cargo turnover of Navoi Airport and connecting the air harbor with major cargo hubs in the world. It is expected that this will allow at least a tenfold increase in the volume of transit.
Both agreements are designed to maximize the use of the logistics and industrial infrastructure of the region. As noted in the message, the agreements will contribute to the development of the Uzbek service sector and, in particular, the transport industry.
The President in his speech stressed the importance of creating new trade-logistics corridors. Uzbekistan intends to increase its export potential by 3-4 times by 2030, for which it is negotiating "with prestigious companies in the world".
DP World expressed its intention to participate in the development of the Navoi FEZ as early as 2021. Then, at the Dubai Expo 2020 exhibition, it entered into a framework agreement with the MIFT on the development of the logistics industry in Uzbekistan.
In October, a delegation from a Dubai-based company announced its intention to build a logistics center in the Tashkent region. The MIFT promised to provide all-round support to the partners.