Ipotekabank, the fifth largest bank in Uzbekistan, is being privatized. An agreement was signed on the sale of the state's share in the company to OTP Bank of Hungary. The price of the transaction has not yet been disclosed. The initial package of 75% of shares will be paid in the first half of 2023.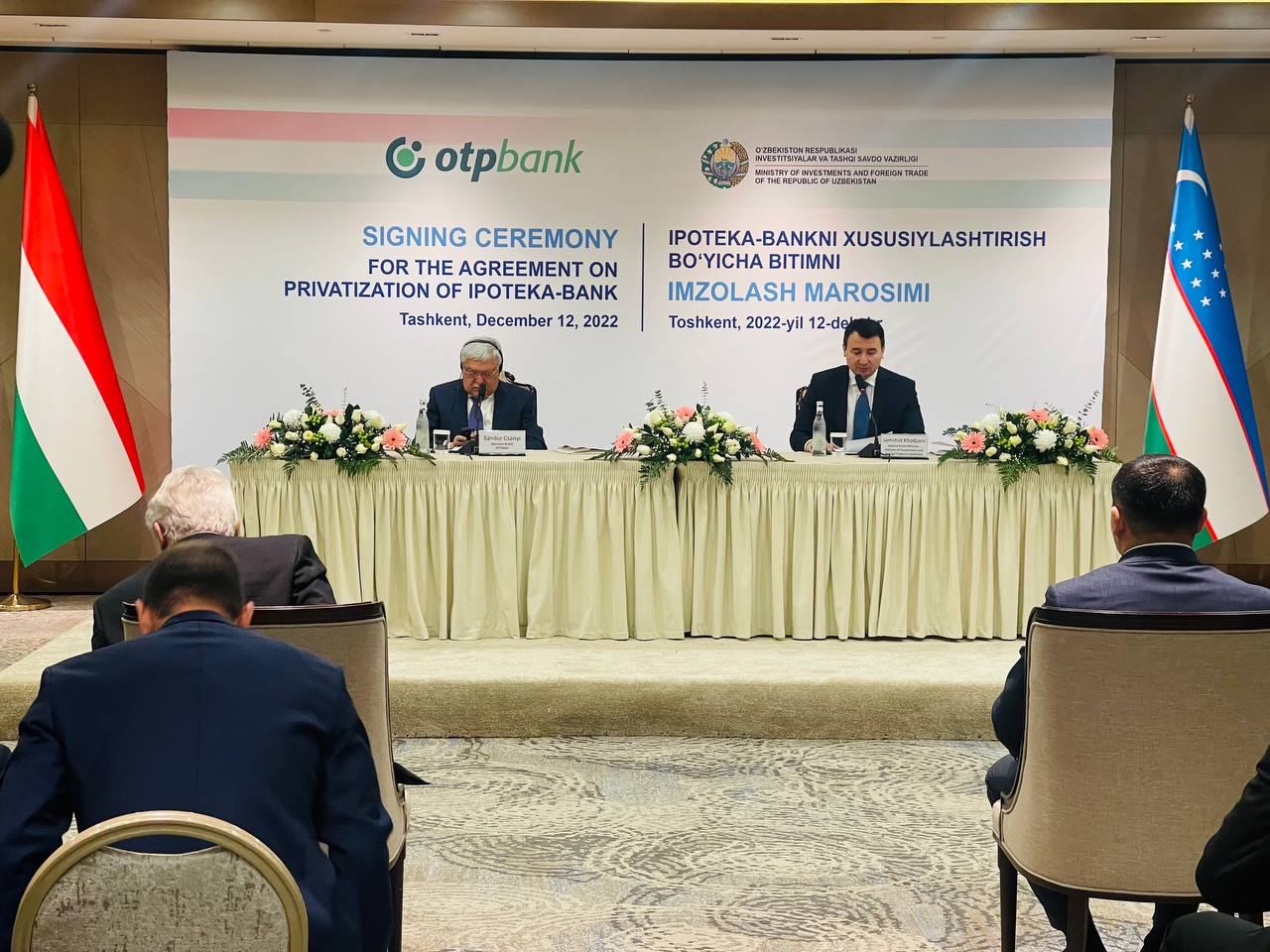 On December 12, an agreement on the privatization of Ipotekabank was signed in Tashkent with the government of Uzbekistan and OTP Bank of Hungary, Kun.uz correspondent reports.
OTP Bank will buy 100% of the shares belonging to the Ministry of Finance of Uzbekistan (about 97% of the total shares) in two stages. Initially, 75% of the shares will be privatized in the first half of 2023, and the remaining 25% after three years.
Elyor Inomjonov, the board chairman of Ipotekabank, said that he could not reveal some points of the deal for now.
"There will be an opportunity to disclose the price after receiving the money for the transaction," he said.
According to Inomjonov, this privatization will give an additional impetus to the development of the financial and banking system.
"OTP Bank has high potential, quality and experience of new services. This process does not stop, it continues continuously. I believe that the OTP bank will contribute to the development of other banks as a locomotive of the banking system. Our goal is to further develop digitization and provide better quality services to customers. At the same time, this bank is a compact bank," he said.
It is reported that after the privatization of Ipotekabank, its name will remain unchanged.
It should be recalled that in 2021, it was known that OTP Bank of Hungary will buy 75% of the share of Ipotekabank. Deputy PM Jamshid Kuchkarov told about this at the first economic forum of Uzbekistan.
Then in April 2022, the Bank of Hungary applied to postpone the privatization payments for several months due to the Ukraine-Russia war.
The privatization process was resumed in November 2022.
According to the Ministry of Finance, Ipotekabank is the fifth largest bank in Uzbekistan with an 8.5% market share and more than 1.6 million retail customers.