The Institute of Problems of Legislation and Parliamentary Studies under the Oliy Majlis hosted a "roundtable" on the topic "Uzbekistan – Egypt: prospects for inter-parliamentary cooperation", Kun.uz correspondent reports.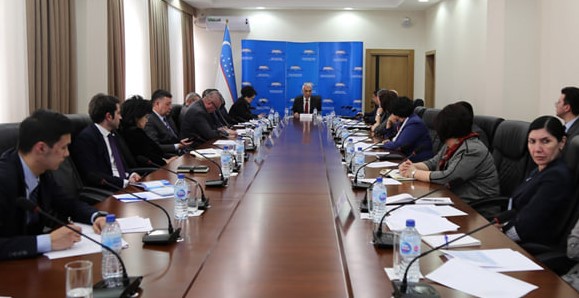 The event was attended by senators and deputies of the Oliy Majlis, representatives of the Constitutional Court, the Ministries of Foreign Affairs, Investments, Industry and Trade, members of the Scientific and Expert Council of the Institute of Legislative Problems and the editorial board of the Bulletin of Legislative Problems periodical, representatives of the media.
Opening the event, Chairman of the Committee on International Relations, Foreign Economic Relations, Foreign Investments and Tourism of the Senate Ravshanbek Alimov noted that the large-scale reforms being implemented in Uzbekistan create additional conditions for the development of mutually beneficial cooperation in all areas. He stressed the importance of signing a joint statement and a number of bilateral documents aimed at expansion of cooperation in the economic, investment, cultural-educational spheres upon completion of the visit of the President of Uzbekistan to Egypt.
The head of the inter-parliamentary group of the Oliy Majlis for cooperation with the Parliament of Egypt, Vakhobjon Muratkabilov, focused on the contractual and legal basis of bilateral relations between the countries, the tasks facing the national parliament in order to bring the Uzbek-Egyptian inter-parliamentary cooperation to a new level and determine practical mechanisms for their implementation.
During the "round table", reports of a number of experts on the prospects for cooperation between the two countries were heard.
Within the framework of the event, the presentation of the collection "Parliament of the Arab Republic of Egypt", prepared by the Institute of Legislative Problems and Parliamentary Studies, took place.
Director of the Institute Foziljon Otakhonov emphasized that the preparation of collections about the parliaments of the countries of the world is becoming a good tradition, the next published collection is dedicated to the "Parliament of the Arab Republic of Egypt". He reported on the results of research, the features of the activities of the Egyptian Parliament, its standing committees, as well as the inter-parliamentary group of the Oliy Majlis of Uzbekistan for interaction with the Egyptian Parliament and other structural divisions.
Following the results of the roundtable, participants of the event noted that this collection serves to develop efforts related to the need to further deepen research on the parliamentarism of foreign countries, enrich domestic experience based on noteworthy aspects of the development of parliamentary activity and increase the effectiveness of parliamentarism in the interests of the people.
In conclusion, the Chairman of the Committee on International Affairs and Inter-Parliamentary Relations of the Legislative Chamber of Oliy Majlis, Dilorom Fayziyeva, stressed that the proposals and recommendations of the participants made during the roundtable are of great importance for the further development of inter-parliamentary cooperation between the two countries.