The Ambassador of Uzbekistan Ravshan Usmanov met with the Minister of Agriculture and Food Security of Malaysia Muhammad bin Sabu, Kun.uz correspondent reports.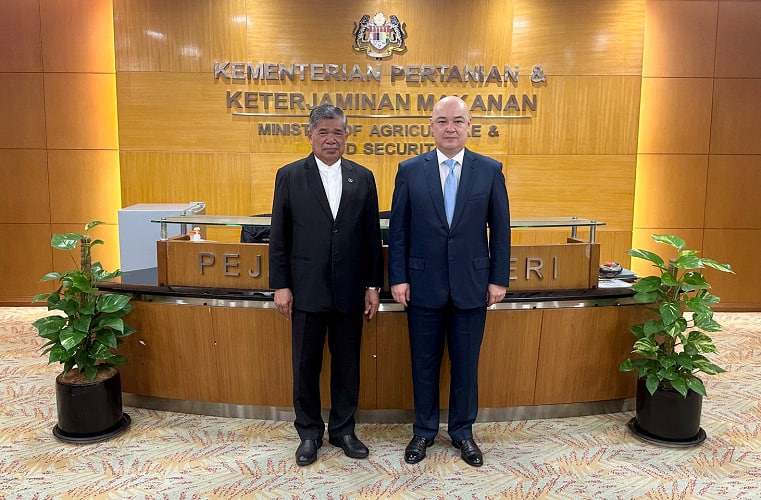 At the meeting, the Malaysian side was provided with detailed information on the strategy for the development of agriculture in Uzbekistan in 2020-2030, as well as the reforms carried out in this area in recent years in our country.
The Minister of Agriculture and Food Security of Malaysia highly appreciated the modern development of the agrarian sector of Uzbekistan, in particular, the widespread introduction of market relations, strengthening the legal framework for relations between entities producing, processing and selling agricultural products, attracting investment in the industry, introducing resource-saving technologies, organizing work on providing producers of agricultural products with modern equipment.
They also discussed issues of mutual cooperation in the field of agriculture, the supply of agricultural products grown in Uzbekistan, including poultry meat and eggs, mineral fertilizers for the needs of Malaysian agriculture.
Following the meeting, it was decided to organize a trip to Malaysia for the leadership of the National Center for Knowledge and Innovation in Agriculture under the Agriculture Ministry of Uzbekistan in September this year and hold an online meeting between the leadership of the ministries of agriculture of the two countries to discuss prospects for mutual cooperation.
The Malaysian Ministry of Agriculture and Food Security is the agency responsible for agriculture, agro-industry, agritourism, veterinary services, fisheries, animal husbandry, agricultural development research and food security. The share of agriculture in Malaysian GDP in 2022 was 9.1%.