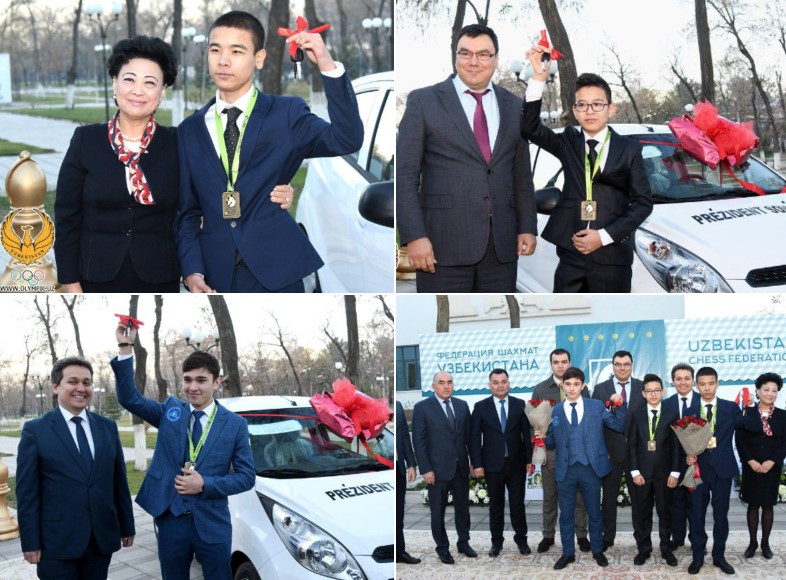 The awarding ceremony of the Uzbek chess players, who won the World Chess Olympiad, took place on 6 December in Tashkent.
Deputy Prime Minister Aziz Abduhakimov, Minister of Public Education Sherzod Shermatov, Minister of Preschool Education Agrippina Shin, General Secretary of the National Olympic Committee Jasur Matchanov and other officials participated in the event.
Nodirbek Abdusattorov, Nodirbek Yakubboyev and Shamsiddin Vohidov were awarded with "Spark" cars for their spectacular performance in the tournament.
For information, Nodirbek Abdusattorov, 14, is an international grandmaster. He scored 5.5 points out of 9 and won a gold medal of the Olympiad. International class masters - Nodirbek Yakubboyev and Shamsiddin Vohidov, both 16, earned 8 and 7.5 points respectively to become gold medal winners.
It should be reminded that the World Chess Olympiad among juniors under 16 was held in Konya, Turkey, from 23 November to 3 December. The young Uzbeks won eight of their nine matches, with their only defeat coming in the 4th round against the United States.