Ministry of Health, UNICEF and WHO roll out campaign to promote immunization
TASHKENT, 24 April 2017 – The last week of April is commemorated as the World Immunization Week to promote vaccines that save and protect children and families. From 24-30 April 2017, United Nations Children's Fund (UNICEF) and World Health Organization (WHO) will support the Ministry of Health to implement a campaign to promote immunization in the country.
Immunization is one of the most effective ways to protect children's lives and futures. Yet, according to global estimates as many as 19.4 million infants worldwide do not receive full vaccination. Immunization saves estimated 2–3 million lives every year. At the same time, if the global immunization coverage is enhanced, it can potentially save 1.5 million more lives.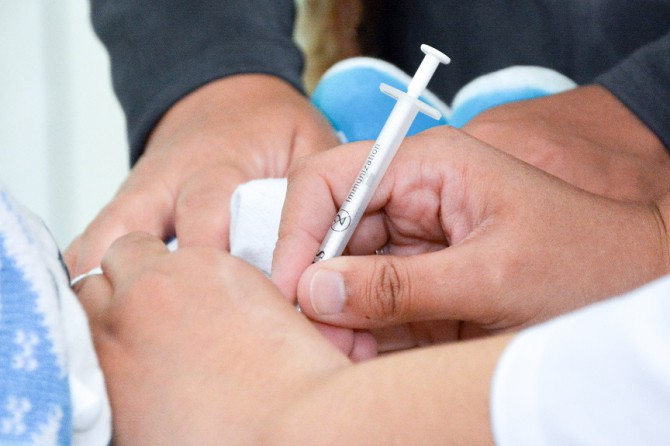 "As per cost-benefit analysis, every dollar invested in vaccines by 2020 could provide an estimated return of 16 times the cost, even in middle-income countries," said Sascha Graumann, UNICEF Representative in Uzbekistan. "Working with the Government, partners and communities, UNICEF aims to increase demand for immunization and design approaches to reach every child," he added.
In Uzbekistan, a new pneumococcal vaccine was introduced in 2015 to prevent infections of meningitis, bacteremia, otitis media, sinusitis and bronchitis. According to WHO global estimates, in 2015, pneumonia took the lives of about 922 thousand children under the age of five years, which is 15 per cent of all the deaths in this age group. Children of Uzbekistan are now increasingly protected from this deadly disease.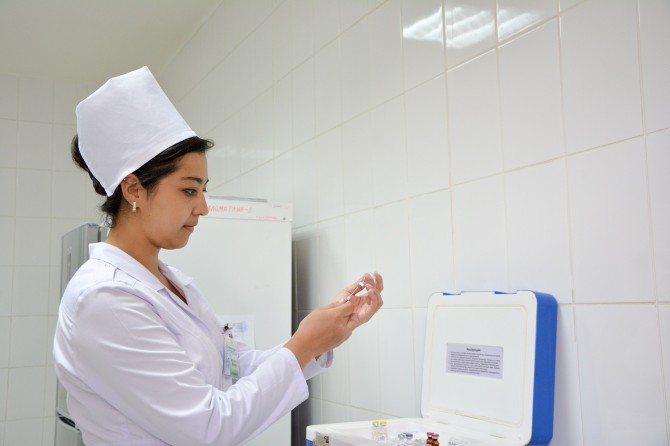 Uzbekistan also successfully eradicated diseases like polio, measles, diphtheria, and tetanus largely due to intensive immunization campaigns. Since 1996, Uzbekistan has no recorded cases of polio caused by the wild virus strain. In 2002, Uzbekistan received a WHO certification as a polio-free country.
"Routine immunization is a building block of strong primary health care and universal health coverage. Today, thanks to the development of new vaccines, we can protect more children against deadly and debilitating diseases. But the fact that vaccines exist does not mean they reach every child who needs them. Therefore WHO is working with countries and partners to improve global vaccination coverage," said Dr. Lianne Kuppens, WHO Representative in Uzbekistan.
"Uzbekistan achieved 99.7 percent vaccination coverage in 2016. We will be doing our best to maintain this high level of coverage, and ensure sustainable funding for vaccines procurement," said Dr. Dilorom Tursunova, National Manager on the Expanded Programme on Immunization, Ministry of Health. She also added that "in June 2014, the health care system introduced the Rotarix vaccine. As a result, the morbidity of acute diarrhea decreased by 30 percent according to the results of research by the Scientific Research Institute of Virology."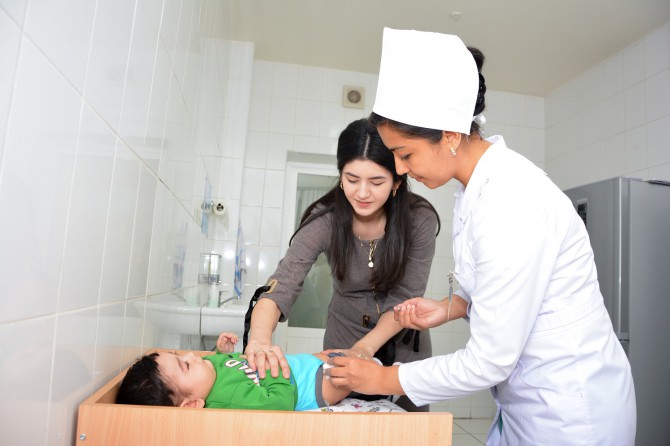 The main goal of the World Immunization Week is to reaffirm our global commitment to children's health and achieve the Sustainable Development Goals by 2030.
For further information, please contact:
Ministry of Health: Dr. Tursunova, EPI Manager
Phone: +99871 239 47 21, e-mail: dilorom.tursunova@minzdrav.uz
WHO: Kamola Safaeva, National Professional Officer, Vaccine Preventable Diseases and Immunization
Phone: +998 71 281 51 72/73/74, e-mail: safaevak@who.int
UNICEF: Nargiza Egamberdieva, Communication Officer
Phone: + 998 93 380 34 19, e-mail: negamberdieva@unicef.or