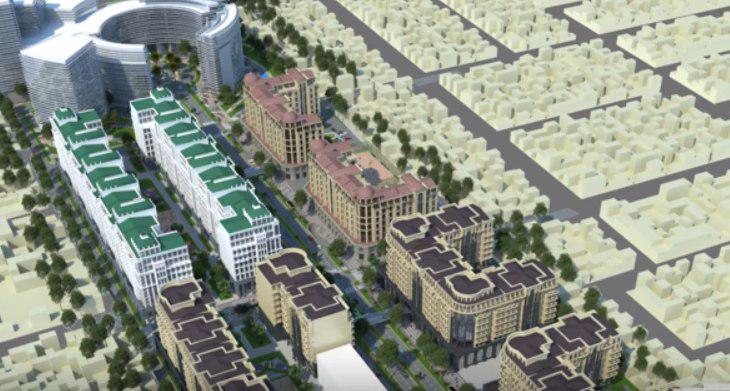 On Dagestan Street of the Mirzo-Ulugbek district, new buildings will be built for $50 million, the press service of the Tashkent city administration reports.
"We have received the appropriate permits. This is our third project in the Mirzo-Ulugbek district. The first project was implemented on Darkhan, where we built a residential complex. We also implemented the second project under the name "Ok Saroy" in the Mirzo-Ulugbek district," the entrepreneur Shukhrat Nazarov, who took part in an event at the Tashkent city administration, said.
He stated that the next project will be implemented on Dagestan Street of the Mirzo-Ulugbek district. The total amount of the project is $50 million.
The entrepreneur noted that they were allocated 3.15 hectares of land on Muhammad Yusuf Street (a.k.a. Dagestan Street). They intend to build modern 11-storey residential buildings (more than 800 apartments). In general, the project consists of three lots.
"We will also build a hotel, restaurant, medical center, kindergarten and school. 40% of the total budget belongs to foreign investors," the entrepreneur noted.
It should be recalled that recently 24 entrepreneurs received approval for implementation of their projects totaling 2.1 trillion soums on the Investor Day at the Tashkent city administration.
"On May 8, 46 businessmen were invited to the city administration, whose projects were approved after consideration at the first stage. Of these, 24 entrepreneurs were given permission this Wednesday by the khokim of Tashkent to implement their projects. The rest are also gradually moving towards this opportunity," the press service of the city administration stated.
According to the report, the volume of investments in starting 24 projects amounts to 2.1 billion soums, $88.5 million of which is foreign direct investment.
"All necessary agreements have already been reached for the remaining 22 projects with a total amount of envisaged investments (375.2 billion soums), the stipulated instances have been passed. So their start is just around the corner," the press service said.