Azerbaijani President visits Uzbekneftegaz showcase at the exhibition in Baku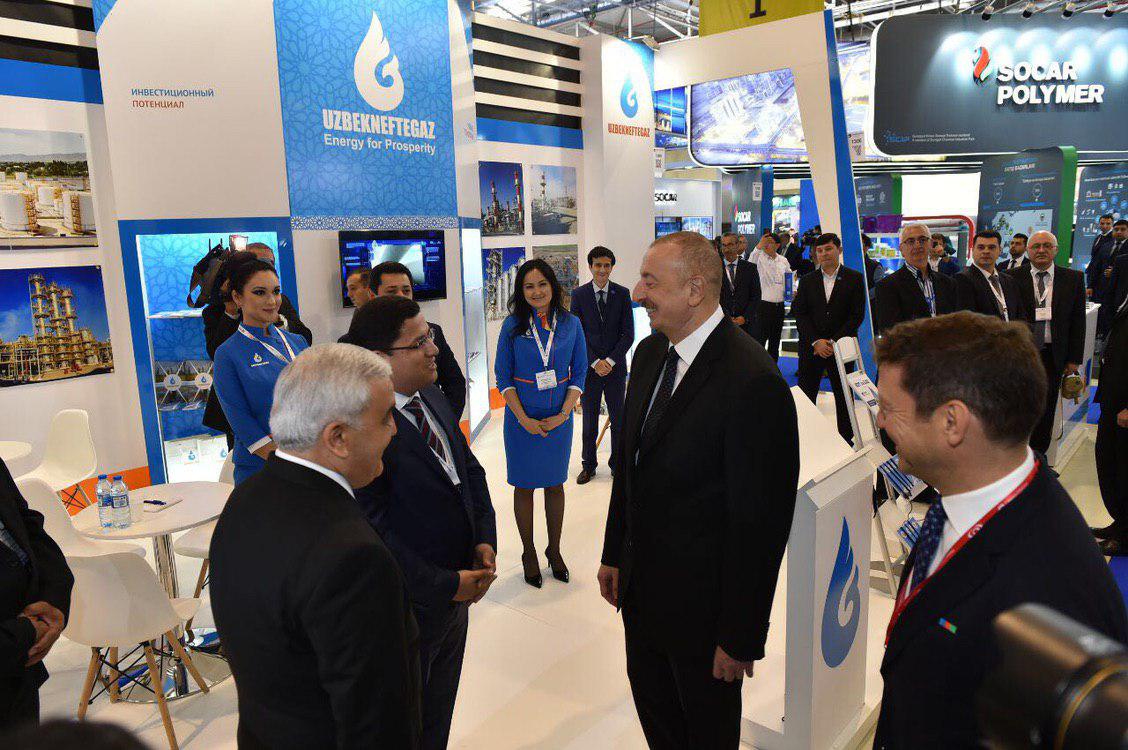 Azerbaijani President Ilham Aliyev visited the Uzbekneftegaz showcase at the XXVI Caspian Oil and Gas International Exhibition, which is being held in Baku. The press service of the Ministry of Energy reports about it.
High-level executives come to the forum annually to discuss the key oil and gas projects in the Caspian region and issues of maintaining energy security.
The Uzbekneftegaz delegation was headed by the first deputy chairman of the board Ulugbek Sayidov. He told Ilham Aliyev about dynamic development of the Uzbek-Azerbaijani relations in the oil and gas sector and projects that are being implemented jointly with the Azerbaijani State Oil Company SOCAR.
Thus, within the framework of the XXIII international exhibition and conference "Oil and Gas of Uzbekistan OGU – 2019", Uzbekneftegaz, SOCAR and BP signed a trilateral agreement to assess the exploration potential of the three investment blocks in the Ustyurt region using advanced methods and technologies.
At the same time, another agreement was signed with the SOCAR's subsidiary LLC "NIPI NEFTEGAZ".
"The document defines the basic conditions for cooperation in increasing hydrocarbon production at the Garbiy Tashli and Sharkiy Tashli, Shimoliy Shurtan and Garmiston fields in the Republic of Uzbekistan using the advanced methods and technologies of SOCAR," the press service noted.
In addition, Uzbekneftegaz and SOCAR cooperate in training and retraining of specialists, and oil and gas scientists from the two countries, regularly exchange experience and knowledge.