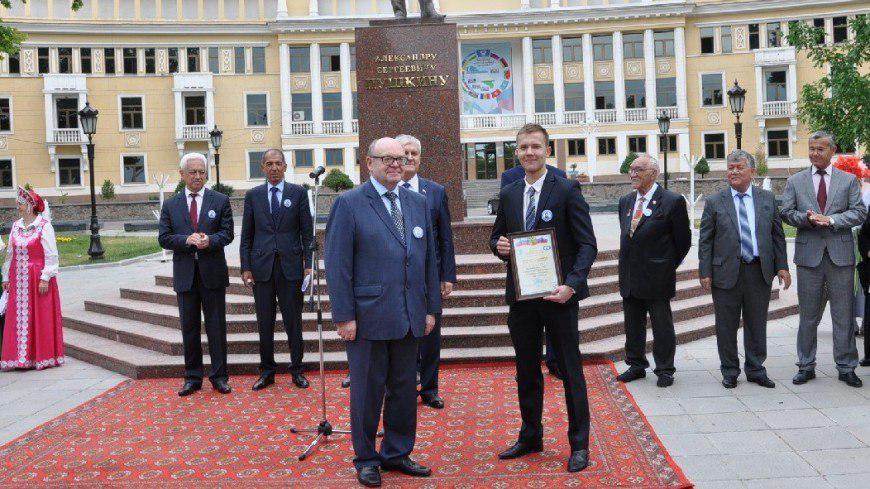 In Tashkent, a poetic event dedicated to the 220th anniversary of Alexander Pushkin took place at the poet's monument, the press service of Rossotrudnichestvo in Uzbekistan reports.
"On June 6, 2019, the Russian Center for Science and Culture in Tashkent with participation of the Embassy of the Russian Federation in Uzbekistan, the Writers' Union of the Republic, and the Committee on interethnic relations with foreign countries under the Cabinet of Ministers and the Russian Cultural Center held a solemn poetic event at the monument of Alexander Pushkin, timed to the birthday of the poet," the statement reads.
The guests said that the great poet's work is of high importance for the development of intercultural relations between the two countries, for the peoples of Russia and Uzbekistan. During the event, the Ambassador of the Russian Federation to Uzbekistan Vladimir Tyurdenev and the head of the representative office of Rossotrudnichestvo in the country Viktor Shulika awarded diplomas to teachers of the republican Russian language schools and universities, as well as winners of international competitions in Russian.
The press service noted that the celebrations, which reflect unity of the cultural values of Uzbek and Russian people, are also being conducted in Andijan, Nukus, Samarkand and Bukhara cities.