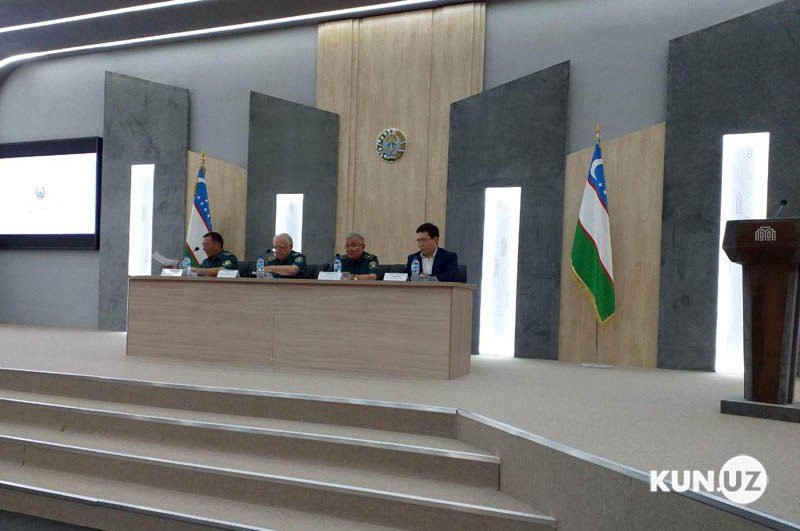 On June 10, the Information and Mass Communication Agency hosted a press conference on implementation of the presidential decree "On measures to radically improve the internal affairs bodies' activities in the area of migration processes and citizenship registration" with participation of officials from the Ministry of Internal Affairs and the media.
At the event, mainly, the issues of crime prevention and migration were discussed. It was noted that the number of preventive inspectors in the republic has been increased from 5,867 to 7,228, of which 7,056 are provided with automobiles on preferential loans.
In January-May 2019, the number of offenses decreased by 30.4% (from 17,484 to 12,171) compared with the same period last year. In particular, the most serious crimes were decreased by 17.5%, serious crimes – 25.1%, socially less threatening crimes – 33%, crimes committed by young people – 38.3%, juvenile crimes – 29.2% and crimes committed by women – 27.1%.
There are 9,093 mahallas, and no crime has been registered in 67.1% of them.
Kun.uz correspondent who attended the event asked the following question: "It is known that infringement of the permanent residency regime in the city of Tashkent and the region is punishable. Is the same practice experienced in other parts of the country? That is, if a resident of Tashkent goes to a region and does not get registered over there for a fixed period of time, will he be imposed a fine?" This question was answered by the head of the Main Department for Migration and Citizenship of the MIA, Colonel Badriddin Shorikhsiyev:
- Tashkent city and region are separate zones. Such practice is not experienced in other areas and those who visit other regions are not imposed fines.
Reportedly, more than 586,000 penalty measures have been taken for violating the passport regime in our country, but most of them are related to the passport expiration date and its loss.