President instructs relevant ministries to ensure a 20% increase in export of goods and services in 2020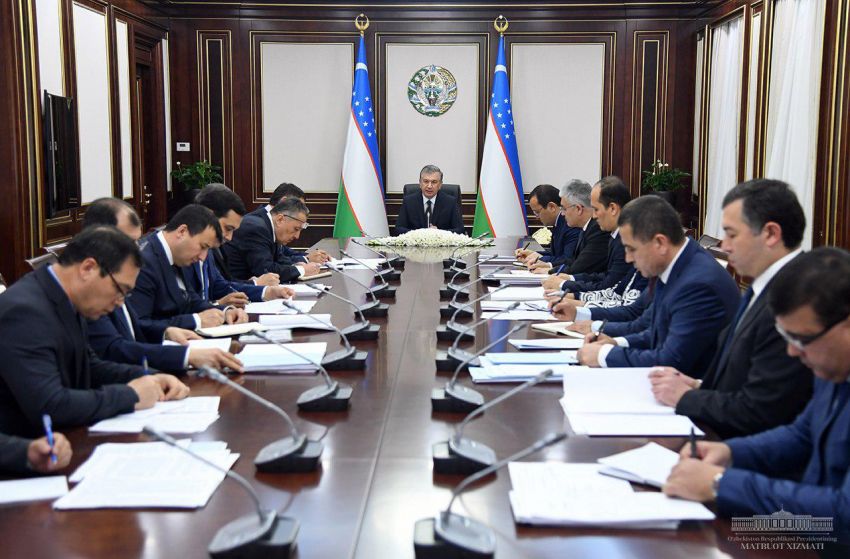 President Shavkat Mirziyoyev held a meeting to consider the expected results of the country's economic development this year and set tasks on ensuring social-economic development in 2020.
During the event, the measures that should be taken to complete in short term before the end of the year were discussed. In particular, objectives were determined to mobilize available resources at the sectorial enterprises, to increase production, to eliminate tax arrears of large enterprises in the oil and gas, electricity, chemical and other industries.
The situation with investments was also analyzed. The President noted that 31 projects are underdeveloped, and 8 regional projects are considered ineffective.
At the meeting, special attention was paid to the provision of key plans for the economy in 2020.
GDP is expected to grow by 5.5% next year, industry – 6.5%, agriculture – 4% and services – 5.7%.
The Ministry of Economy and Industry, the Ministry of Finance and the Central Bank have been instructed to properly assess the risks involved in achieving these indicators, and to coordinate the work of all departments.
Drawing attention to the effects of various economic crises in the world, it was stressed that next year will be a difficult and challenging one. Taking the necessary measures, the head of state instructed to ensure the growth of export of goods and services by at least 20% compared to the current year.
The issue of supplying the domestic market with consumer goods was discussed in detail. Responsible executives for preventing unjustified rise in prices for foodstuffs, who fully control the process from the production of the good until its sale in the market, have been identified.