Uzbekistan earned $2.6 million from registration of mobile devices
Since the December of last year, state has earned 25.3 billion soums from paid registration of mobile devices using IMEI codes.
According to Shukhrat Sharafutdinov, the deputy of the Legislative Chamber of Oliy Majlis, the parliament will establish control over the targeted use of the received funds, the public will regularly be informed about it.
Shukhrat Sharafutdinov recalled that back in October 2018, a resolution of the Cabinet of Ministers on the use of IMEI identification codes was adopted, which caused a wide resonance among the population. Therefore, the Committee on Issues of Innovative Development, Information Policy and Information Technologies of the Legislative Chamber appealed to the relevant organizations, including the Ministry for the Development of Information Technologies and Communications for clarification.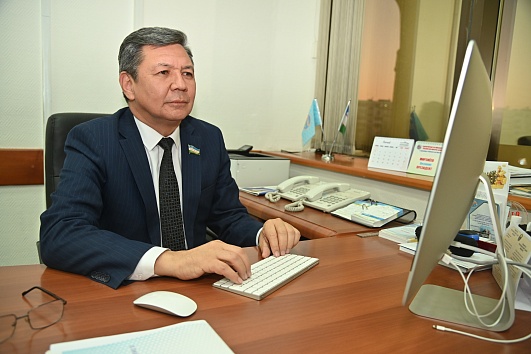 During the hearing, it was said that counterfeit and low-quality equipment was sold on the domestic market.
"This infringes on the rights of consumers, damages the state budget, and impedes the development of healthy competition. Therefore, the lower chamber conducted monitoring. Data on its results shows that in 2018, 13.5 thousand mobile phones worth $1.8 million were imported. Over the ten months of 2019, this figure has grown significantly – 80 thousand mobile phones worth $5.5 million were delivered to the country's markets," Sharafutdinov said.
In the period from November to December 2019, 460.8 thousand devices worth $17.4 million were officially purchased. During January and the first half of February of the current year, 110.4 thousand phones worth $8.5 million were sold.
"The demand for these products is only growing. Based on the decision of the Cabinet of Ministers, the regulation on the registration of imported, developed or used mobile devices was approved. In accordance with this document, the procedure for their registration by November 1, 2019 on a free basis, and from December 1, on a paid basis, is approved," said Shukhrat Sharafutdinov.
The deputy said that the Legislative Chamber of Oliy Majlis receives appeals from citizens who are interested whether the fee of 44,600 soums is reasonable for registering IMEI codes of mobile phones.
"According to the data provided, from December 1,566,772 mobile devices were registered, 25.3 billion soums were received in the special fund of the Treasury. This money was used to implement projects for the development of telecommunications infrastructure in villages and remote areas, tourist and recreational regions. They plan to open training centers for specialists in information and communication technologies," he said.