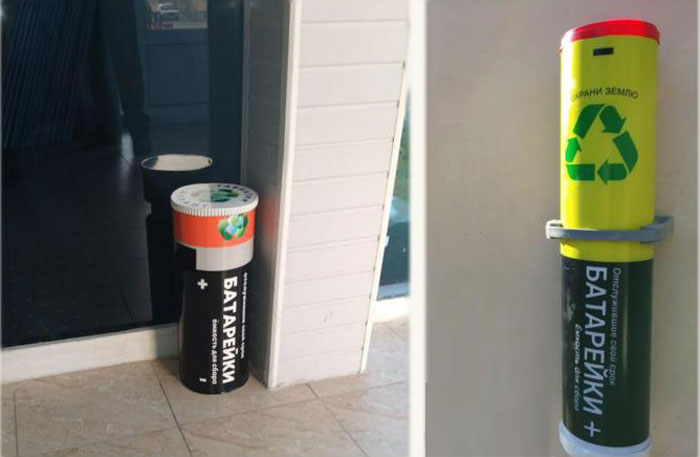 The State Committee on Ecology and Environmental Protection initiated the project on installing containers for collecting batteries throughout the country for their further recycle, the press service of the committee said.
The committee notes that used batteries should not be thrown into general waste bins due to the toxic substances they contain - lead, cadmium, mercury, nickel, zinc and others. If they end up at the landfill with other household waste, then their coating will gradually collapse, and hazardous elements will penetrate the soil, groundwater, and then, eventually, surface water. In case the battery gets into the incinerator, those harmful compounds will pollute the atmosphere.
"Previously, people had few options for getting rid of used batteries. Recently, however, large transformations took place in the field of household waste management, and the specialized enterprises operating in this sphere have become subordinate to the State Committee on Ecology. There is a phased solution to the problems in the field, including the issue of battery recycle," the committee said.
All territorial units of the State Unitary Enterprise "Toza Hudud" (Clean area) and "Mahsustrans" were instructed to begin the installation of special containers of a standard form for collecting batteries, primarily in waste collection points. A similar activity has been proposed to private sanitary cleaning companies.
The first new containers can already be seen in Tashkent and the Fergana region. It is easy to identify them, as they resemble a battery in shape and appearance.
By today, 530 containers of the "Mahsustrans" and 171 other private sanitation companies have appeared in the capital. Installation continues and covers all existing waste collection points.
It is also necessary to ensure regular collection of batteries in this way. They will be stored in large containers, mainly on the territory of the local branches of the "Toza Hudud" and "Mahsustrans" enterprises.
The question of their further processing has yet to be resolved, since the republic does not yet possess the necessary equipment. Another option that needs to be considered is sending the batteries abroad for recycling, the State Committee on Ecology added.