Students of Inha University in Tashkent create a "smart" mask against coronavirus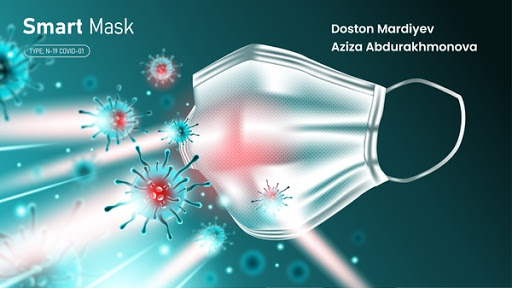 Senior students of Inha University in Tashkent, Doston Mardiyev and Aziza Abdurakhmanova, developed a "smart" mask that measures temperature, responds to cough and shortness of breath.
According to students, this mask is reusable and has interchangeable inserts. It is equipped with three different sensors that respond to a person's body temperature, cough and shortness of breath.
Sensors installed in the mask automatically send the identified measures to the smartphone. The app compares this data with the well-known symptoms of COVID-19. If symptoms match, the application gives a signal.
"The coronavirus has certain symptoms that distinguish it from other respiratory infections: a high fever, dry cough, shortness of breath. The sensors of the mask easily identify this data. For example, if a person has a temperature of 38.5, coughs frequently and feels difficulty when breathing, the application will signal that the mask owner may have COVID-19. In the future, we plan to connect the application to certain medical institutions. It will be easier to help people with the corresponding symptoms," said Aziza Abdurakhmanova, one of the creators of the project.
Project co-author Doston Mardiyev noted that currently the project is on the final stage and undergoes testing. Students hope that this invention will be useful to people and perhaps may attract the attention of relevant departments or private investors.