Shavkat Mirziyoyev, Recep Tayyip Erdoğan discuss strengthening bilateral relations between Uzbekistan and Turkey
Today, May 23, a telephone conversation took place between Shavkat Mirziyoyev and Turkish President Recep Tayyip Erdoğan.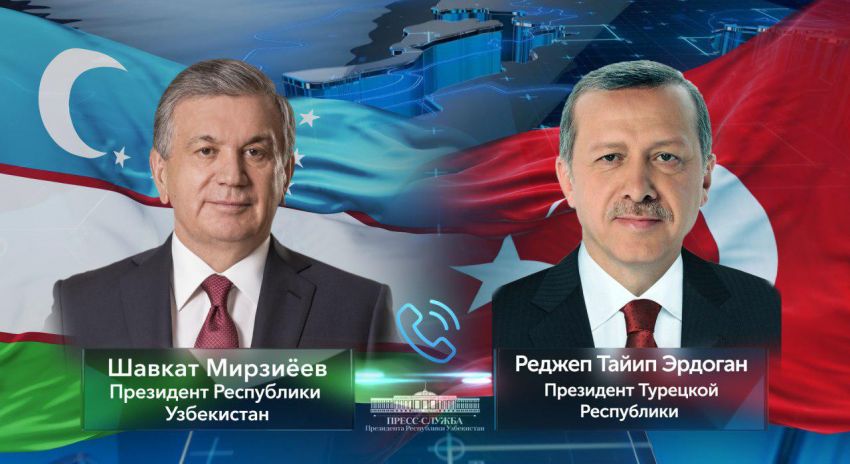 According to the presidential press service, the parties exchanged warm congratulations on the occasion of Ramadan Hayit, which is a celebration of joy and thanksgiving, generosity and kindness for the entire Muslim world. The leaders wished each other and the peoples of the two countries prosperity and wellbeing.
The presidents focused on issues on the bilateral agenda. They noted with satisfaction the close partnership in the fight against modern challenges and threats.
Mutual support was expressed for decisive measures taken in both countries to counteract the spread of coronavirus, minimize the negative impact of this dangerous disease on the economy and bilateral relations, provide targeted support to the population, and promote the development of key sectors of the economy and business.
Shavkat Mirziyoyev expressed sincere gratitude to the leader of Turkey for the practical assistance provided in the fight against the pandemic, as well as in connection with the emergency at the Sardoba reservoir.
In addition, during the conversation, special attention was paid to expanding the Uzbek-Turkish multifaceted relations, primarily in the trade, economic, investment and transport-communication spheres.
"Uzbekistan and Turkey are interested in developing effective regional transport corridors, including the active use of the Baku-Tbilisi-Kars railway, as well as creating favorable conditions for increasing freight traffic. The importance of the timely implementation of the agreements reached at the highest level, including the decisions of the first meeting of the Strategic Cooperation Council, held at the beginning of the year in Ankara, was noted," the statement said.
The need to continue joint work, including within the framework of the bilateral intergovernmental commission, to maintain the dynamics of trade indicators and promote priority investment projects in various sectors of the economy with the participation of leading companies and banks of Uzbekistan and Turkey, was also emphasized.
A number of topical issues of regional cooperation and international politics were also considered.