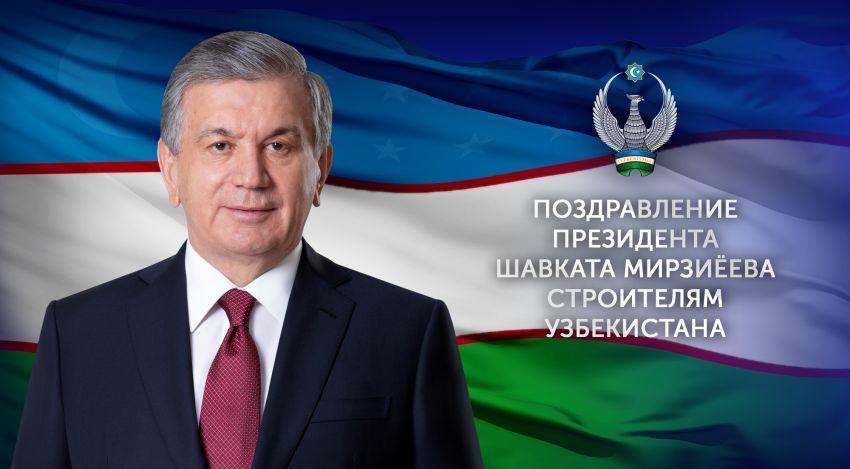 "I cordially congratulate construction workers of our country on their professional holiday. It is indeed difficult to overestimate the importance of your work - work of many thousands of skilled builders and engineers, architects and masters, designers and contract organizations, whose noble duty is to create the new image of Uzbekistan, ensuring the well-being of our people," the congratulatory message says.
It is noted that in the first half of this year, construction work totaling 43 trillion soums were completed in Uzbekistan, which increased by 7 percent compared to the same period last year.
"Our builders showed real courage and resilience in dealing with the consequences of the natural disaster and the flood - first in the Bukhara region, then in the area of the Sardoba Reservoir. They worked on repair of social facilities, construction of modern housing for thousands of families. Most importantly, builders and engineers of Karakalpakstan, Tashkent and all the regions worked side by side and demonstrated the unity of our people, proving that we are all one big family," the President said.
Mirziyoyev stressed that, in addition to the dedication of doctors and representatives of other occupations who are fighting the pandemic under the harsh quarantine imposed in the country since March, the work of the builders deserves special recognition, as they continue their important work at construction sites of strategic importance.
In particular, dozens of buildings were constructed in the shortest possible time, including a special multidisciplinary hospital with 4,000 beds in the Zangiota district, a temporary quarantine complex in the Yukorichirchik district of the Tashkent region, and distribution centers.
Moreover, such complexes, even in the most remote areas of the country, are now playing an invaluable role in preventing the spread of the virus and saving the lives of thousands of compatriots infected with this serious disease.
"The development of the modern construction industry is impossible without advanced education and experience, as well as qualified personnel. To this end, the Tashkent Institute of Architecture and Civil Engineering and the Samarkand State Institute of Architecture and Construction are currently training qualified personnel in 22 bachelor's and 23 master's specialties. Work is underway to improve the activities of construction contractors and improve the quality of work in the sphere. In particular, a rating of such organizations has been introduced. The unified electronic database of all the main data related to the construction sector, which is being formed at present, will also contribute to improving the quality of work," Mirziyoyev said.
The President stressed that the government will focus on the issues of further developing the construction industry, production of building materials, improvement of urban planning and creation of new jobs.
"Dear builders! Once again, I congratulate you on your professional holiday and wish you success in your noble work, strength and energy, good health, peace and well-being to your families!" the President concluded.