$2.3 billion of Uzbekistan's public external debt ($21 billion) was directed to the construction of the Uzbekistan GTL plant. The total cost of the project is $3.6 billion.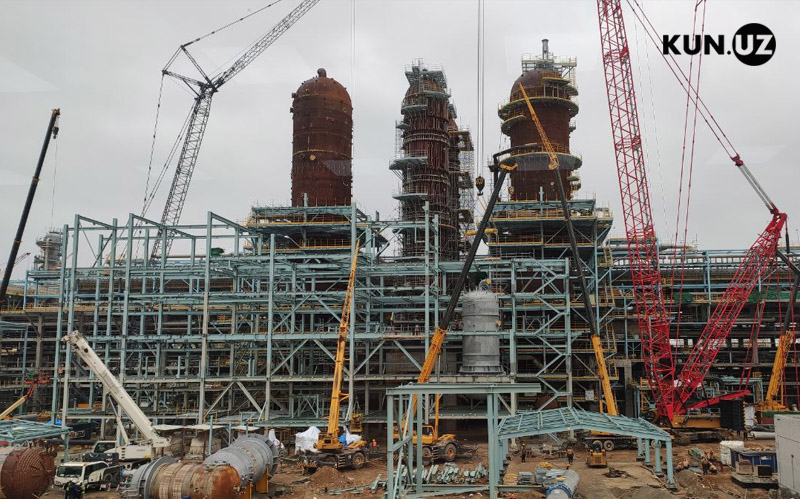 Spokesperson for the Ministry of Energy Elmira Bekmurodova told Kun.uz that the design process has been completed and the construction work is at the final stage.
"It is planned to complete the construction work in December and start production by July 2022. Currently, about 8,000 people and 522 special equipment are working at the facility," the ministerial spokesperson said.
It is noted that if the plant is fully operational, it will process 3.6 billion cubic meters of gas a year and produce 1.5 million tons of synthetic liquid fuel. Also, it is planned to produce 307.3 thousand tons of jet fuel, 724.6 thousand tons of diesel fuel, 437.3 thousand tons of naphtha and 53.4 thousand tons of liquefied gas.
"Once the plant starts operating, 1,321 new jobs will be created. It produces goods worth 7.8 trillion soums a year. 1.5 trillion soums will be paid to the state budget in taxes. As a result of the project, natural gas will be deeply processed, imports of hydrocarbons will be reduced, and domestic demand for high-quality and environmentally friendly fuels will be met," Bekmurodova added.
The total area of the plant is 135 hectares. The project contractors are Hyundai Engineering Co. Ltd, Hyundai Engineering and Construction Co., Ltd. (Korea) and Enter Engineering Pte. Ltd. (Singapore). The plant is designed to process natural gas (purified methane), which is extracted from the Shurtangaz group of fields and delivered from the Shurtan Gas Chemical Complex. The plant's products are planned to be used in transport, agriculture, aviation, oil and chemical industries.
The product will be sold mainly in Uzbekistan. It is said that with the completion of the project and the start of production of synthetic liquid fuels, it will be possible to replace the import of hydrocarbons by about $1 billion a year.