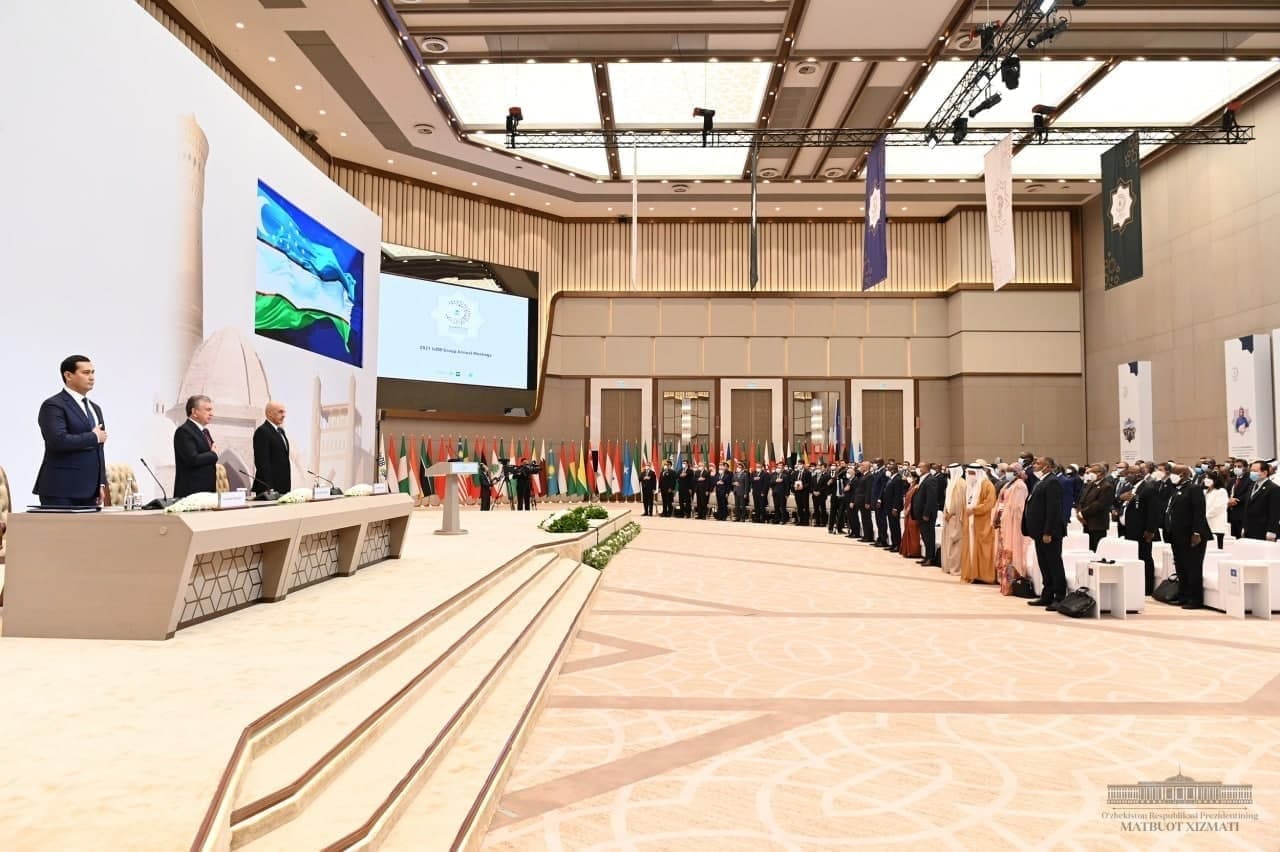 President of Uzbekistan Shavkat Mirziyoyev addressed the 46th annual meeting of the IsDB Board of Governors in Tashkent on 2 September. In his speech, the President made proposals in five areas of the bank's activities.
"Today, countries around the world are facing serious challenges such as climate change, increased migration, shortage of energy and food resources.
In order to effectively overcome these risks, the bank's member countries need to establish comprehensive cooperation in the development and introduction of innovations and technologies.
We believe that the Islamic Development Bank will take the lead in these processes. Therefore, we consider it necessary to improve the activities of the bank in the following areas.
First, we propose to develop a concept for the formation of a trade and economic space - "A green corridor from West Africa to East Asia".
This is especially important during the pandemic. The implementation of the concept will serve to expand trade and investment ties, the sustainable growth and economic integration of our countries.
Secondly, it is necessary to expand the financial instruments of both the International Islamic Trade and Finance Corporation and the Islamic Corporation for Investment and Export Credit Insurance.
These efforts will make a worthy contribution to the promotion of free trade, insurance of investment risks, development of transport and logistics infrastructure.
Thirdly, in the post-COVID period, it is very important to give an innovative approach to the development of the economies of member countries.
Including:
- Full use of the powers and capabilities of the Fund for Science, Technology and Innovation of the Islamic Development Bank;
- Ensuring food security through the introduction of advanced technologies in agriculture;
- Developing a "green economy" based on the expansion of the use of renewable energy and environmental technologies.
Fourth, investment of regional significance and funding for infrastructure projects needs to be expanded. In this way, we will be able to further strengthen the connectivity of our countries.
Fifth, in order to finance new areas, we need to ensure the speedy implementation of the decision of member states to increase the capital of the Islamic Development Bank," said Shavkat Mirziyoyev.