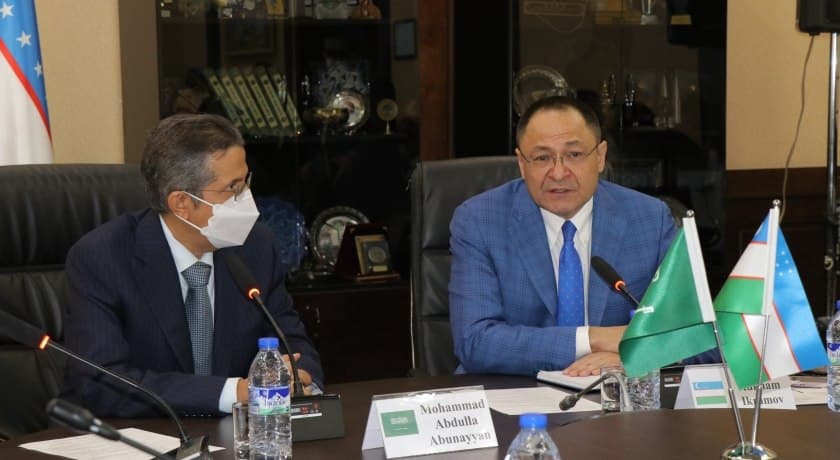 On September 3, 2021, the 2nd meeting of the Uzbek-Saudi Business Council was held at the Chamber of Commerce and Industry.
The event was attended by the chairman of the Chamber of Commerce and Industry, co-chairman of the Uzbek-Saudi Business Council A. Ikramov, chairman of ACWA Power, co-chairman of the Saudi-Uzbek Business Council Mohammad Abdullah Abunayyan, as well as representatives of business circles of the two countries.
The Business Council was opened by the Chairman of the Chamber of Commerce and Industry A. Ikramov. In his speech, the Chairman of the Chamber of Commerce and Industry of Uzbekistan noted that over the past two years, bilateral cooperation between Uzbekistan and Saudi Arabia in the political, trade-economic and investment spheres is developing rapidly. It was also noted that the visit of the Minister of Investment of Saudi Arabia Khalid al-Falih to Uzbekistan in January of this year and the visit of the Deputy PM – Minister of Investment and Foreign Trade of Uzbekistan Sardor Umurzakov to Saudi Arabia in May of this year became a bridge to continue further development of bilateral relations between countries.
At the same time, it is worth paying special attention to the fact that profitable projects have been implemented between the entrepreneurs of the two countries in a short period of time.
For example, as a result of the signing of a Memorandum of Cooperation between Uzbekistan Airways and Flynas on August 5, 2021, the Saudi airline was able to launch the Riyadh-Tashkent flight for the first time.
During the event, business representatives of the two countries discussed in detail the issues of investment cooperation in various fields, infrastructure projects in the field of transport, construction and reconstruction of roads, cooperation in the field of tourism and medicine.
During his speech, Chairman of ACWA Power Mohammad Abdullah Abunayyan highly appreciated the reforms implemented in Uzbekistan over the past five years, as well as the opportunities created for entrepreneurs, noting that cooperation with Uzbekistan is a great honor and a real responsibility.
During the event, representatives of specialized organizations presented the investment potential and existing cooperation opportunities in various fields of Uzbekistan and Saudi Arabia.
In the course of the presentations, open dialogues were held, a number of issues were resolved, and verbal agreements were reached on the implementation of projects.