On February 14, Deputy Prime Minister – Minister of Investments and Foreign Trade of Uzbekistan Sardor Umurzakov held negotiations with the President of the Islamic Development Bank (IDB) Muhammad Sulaiman Al Jasser via videoconference.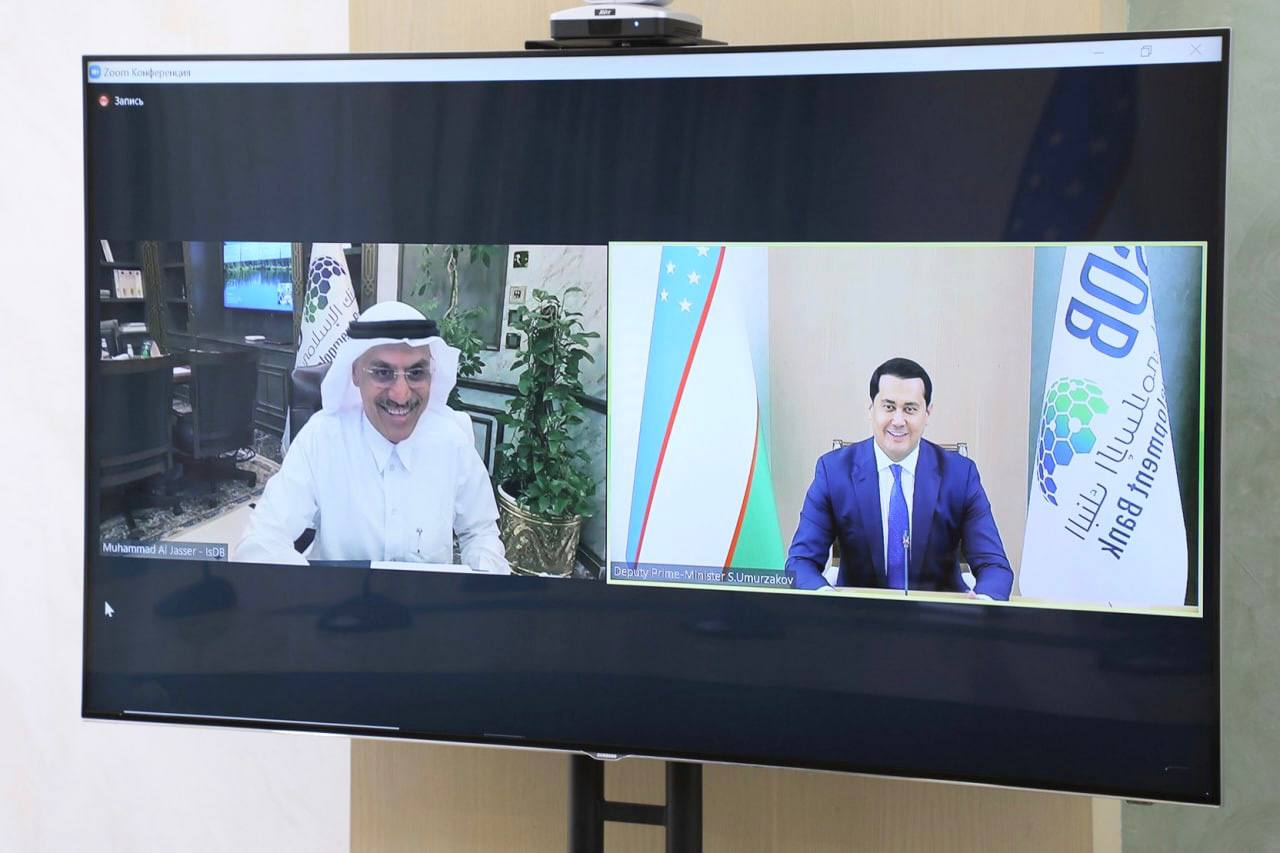 The talks were devoted to discussing the current state and prospects for expanding mutually beneficial cooperation. The active nature of the expansion of the IsDB's activities in Uzbekistan, observed in recent years, was noted. As of today, the investment portfolio of IDB in Uzbekistan includes 29 projects with a total value of $1.8 billion, of which 21 projects worth $996 million have already been implemented, and 8 projects worth $825 million are under implementation.
The parties discussed measures to accelerate the implementation of ongoing projects and outlined further steps to consider new projects in the areas of infrastructure development, education and business support, which are expected to be approved by IDB this year.
The IsDB Chairman welcomed the adoption of the new Development Strategy of Uzbekistan for 2022-2026, emphasizing the relevance of the priorities outlined in it, and expressed his readiness to contribute to the practical implementation of the Strategy and further promotion of socio-economic reforms in Uzbekistan.
The tasks of organizing the activities of the Fund for the expansion of economic opportunities were considered at the meeting. It was announced that in January of this year, IDB held a roadshow to attract private investors to participate in the activities of the Fund. The parties expressed their commitment to active work to accelerate the resolution of organizational and financial issues in order to launch the Fund's activities in the second quarter of 2022.
An agreement was reached on the joint development of a new Partnership Cooperation Program with IDB for 2023-2025. The sides exchanged views on priority areas of interaction, among which were the empowerment of women in the regions and rural areas, the promotion of youth entrepreneurship and support for start-ups, the modernization of water supply, sewerage, utilities and transport infrastructure. The relevance of improving the education system through the use of the new SmartED financing mechanism, created by IDB in cooperation with the Arab Coordination Group, was also emphasized.
Muhammad Sulaiman Al Jasser also expressed his readiness to consider the possibility of expanding support for small businesses and entrepreneurship in Uzbekistan through the use of trade finance instruments and other financial instruments of cooperation with the country's commercial banks.
The Uzbek side welcomed the new joint initiative of the IDB and the Arab Petroleum Investment Corporation (APICORP) "Infra Initiative", focused on financing projects in the fields of alternative energy, infrastructure construction, water management and waste disposal, including by attracting private companies and investors.
The prospects for allocation of additional resources by IDB for the implementation of a program for the reconstruction of 400 schools in the regions of Uzbekistan in order to improve the quality of education for the population living in densely populated, rural and remote areas were discussed.