On April 19, a representative Uzbek delegation headed by the khokim of the city of Navoi Mukhitdin Bazarov and representatives of the Committee on Interethnic Relations and Friendly Relations with Foreign Countries under the Cabinet of Ministers of Uzbekistan began a visit to Lithuania.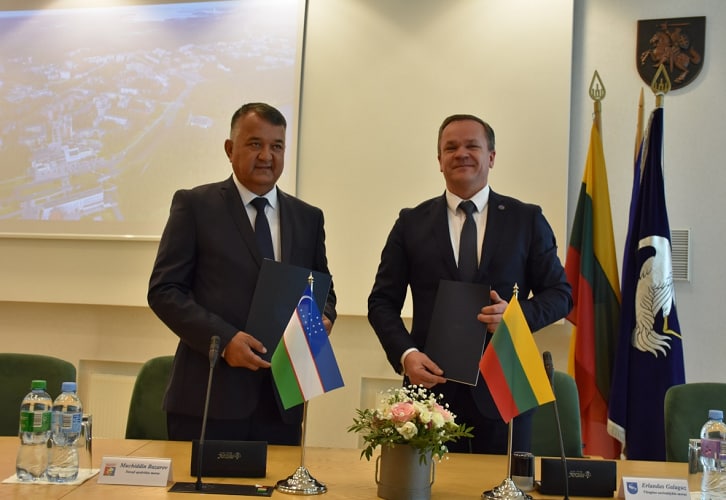 According to the Embassy of Uzbekistan in Latvia, during a visit to the city of Visaginas with the head of the municipality of the city Erlandas Galaguz, prospects for expanding cooperation with the city of Navoi in trade-economic, cultural, humanitarian and other areas of mutual interest were discussed.
As a result of the negotiations, the parties signed a Memorandum of Cooperation between Navoi and Visaginas. The document assumes joint work in a number of areas. In particular, the promotion of artistic and cultural cooperation aimed at the development of intercultural dialogue, mutual encouragement and support of the investment opportunities of the parties, the exchange of information and experience between administrations, the joint attraction of grants for the implementation of projects at the European and international levels. In addition, it is planned to develop partnerships between social, school, university, scientific and economic, sports and medical institutions.
Erlandas Galaguz stressed that this visit of the Uzbek delegation will undoubtedly contribute to the further expansion of cultural ties and deepening mutual understanding between the peoples of the two countries.
At the end of the trip, at the invitation of the Uzbek side, the leadership of Visaginas expressed its readiness to make a return visit to Uzbekistan.
The city of Visaginas is a large administrative center of Lithuania. There are many plants and factories specialized in the production of fertilizers, fuels and lubricants, furniture, medical equipment and more. It is considered one of the industrial and transport centers of the country. Visaginas ranks first in the country in terms of employment of children and youth. It is one of the most advanced cities in the Baltics due to the implementation of advanced public safety systems.