Yesterday, Deputy PM – Minister of Investments and Foreign Trade of Uzbekistan Jamshid Khodjayev held talks via videoconferencing with the Minister of Economic Development of Hungary Marton Nagy.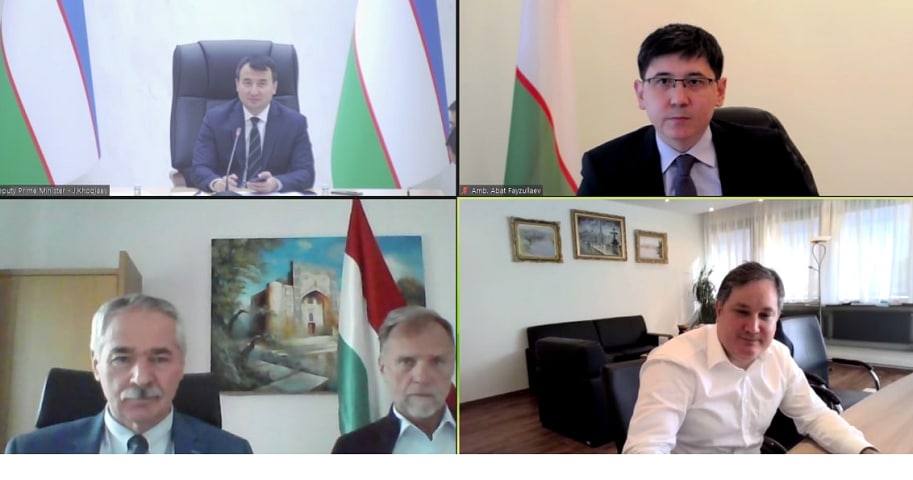 According to the Ministry of Investments and Foreign Trade (MIFT), during the conversation, positive dynamics in the development of bilateral relations between the two countries was noted, which was greatly facilitated by the visit of the head of Uzbekistan to Hungary in early October.
The parties discussed the practical aspects of the implementation of existing agreements, paying special attention to the analysis and development of measures for the accelerated execution of 42 documents signed between Uzbekistan and Hungary for a total of $1.2 billion. In particular, prospects for the implementation of joint investment projects in the fields of agriculture, the automotive industry, pharmaceuticals, banking and finance, transport and logistics, as well as cooperation in the field of digitalization of water management processes were considered.
In particular, an agreement was reached on organizing a visit by representatives of the Hungarian companies Bona Farm, Master Good and Kite for a detailed study of projects for the creation of poultry clusters, intensive horticulture and processing of fruits and vegetables, companies RABA and Joison Safety Systems – to organize the supply of components for the automotive industry, companies Meditop, Femfelgozzo, Gideon Richter – to create high-tech pharmaceutical enterprises for the production of innovative drugs, medical furniture and medical equipment.
Having discussed the prospects for cooperation in the banking and financial sector, the parties considered the possibility of creating a joint Uzbek-Hungarian investment Fund, and also agreed to intensify the implementation of the project with OTP Group.
Aspects of bilateral cooperation in the transport and logistics sector are considered separately. The parties welcomed the successful launch of direct flights Samarkand – Abu Dhabi with the Hungarian company Wizz Air and discussed the issue of creating a joint carrier with the participation of Uzbek investors. An agreement was reached to speed up the signing of an intergovernmental agreement on air traffic.
In the field of digitalization of water resources management processes, it was agreed to develop a comprehensive action plan and intensify cooperation between relevant scientific institutions.
Following the talks, the parties expressed their commitment to continue joint work and take specific practical measures to implement the "roadmaps" and programs for the practical implementation of projects in the discussed areas of cooperation.