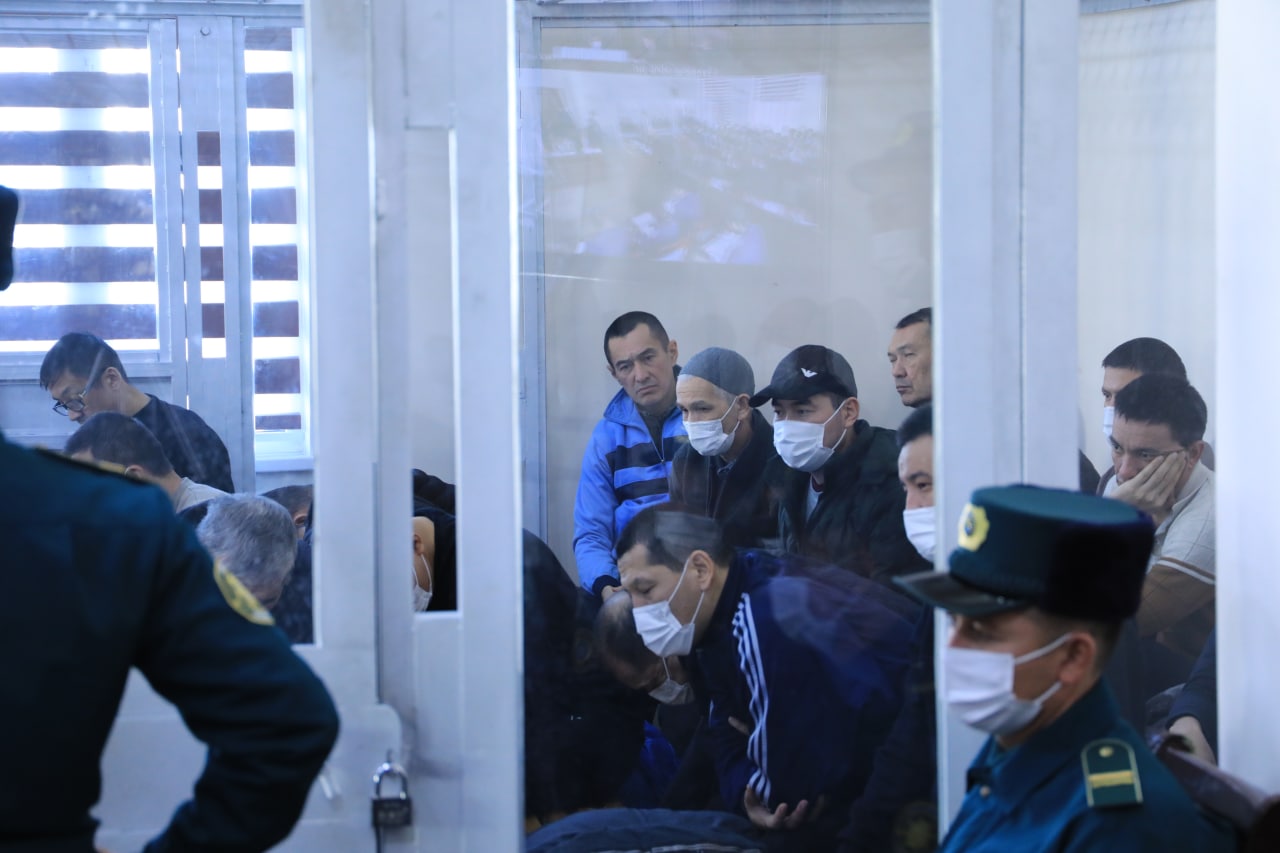 According to the Supreme Court press service, on January 31 this year at 10:00 in the building of the Bukhara Regional Court, the court verdict will be announced following the consideration of a criminal case against 22 defendants accused of committing mass riots in the city of Nukus on July 1-2, 2022.
It should be recalled that the state prosecutor asked Dauletmurat Tadjimuratov and Lolagul Kallikhanova, the main suspects, to be sentenced to 18 and 11 years in prison, respectively.
Of the remaining 20 defendants in the criminal case, the prosecutor's office asked for 18 to be given shorter terms of imprisonment, and for two defendants to be sentenced to restraint of liberty.
The main suspect, Dauletmurat Tadjimuratov, was asked to be sentenced to 18 years in prison, and the journalist Lolagul Kallikhanova (she was in Tashkent before and during the riots in Nukus) to 11 years.
The charges against both suspects include Articles 159 (encroachment on the constitutional order of the Republic of Uzbekistan), 244 (mass riots), 244-1 (production, storage, distribution or demonstration of materials containing a threat to public safety and public order) and 104 (deliberate grave bodily injury) of the Criminal Code.
Athlete Azamat Turdanov is charged under the same articles, except for Article 244-1, and was asked to be sentenced to 8 years in prison. In addition, for the following defendants, the prosecutor's office asked the court to impose the following sentences: Akhmet Smetullayev - 9 years in prison, Dauletmurat Jiyemuratov - 9 years, Bakhtiyor Kadyrbergenov - 8 years, Bayram Seitniyazov - 7 years, Allabay Tokimbetov - 9 years, Kaharman Seitimov - 6 years.
The prosecutor asked the court to impose 7 years in prison for Azamat Nuratdinov, 7 years for Saidabulla Medetov, 7 years for Nurlan Nayipov, 7 years for Polat Shamshetov, 8 years for Razbek Bekmuratov and 8 years for Sultanbek Kaipov.
The prosecuting body asked to imprison Polat Nurniyazov for 6 years, Sayipnazar Kalimov for 7 years, Nurlan Sultanmuratov for 5 years, Arislan Temirkhanov for 7 years, Amirbek Adilbekov for 7 years, Salamat Kalilayev and Berdakh Genjebayev for 3 years.