By the end of 2023, it is planned to install small capacity renewable energy sources in the houses of 37,000 residents.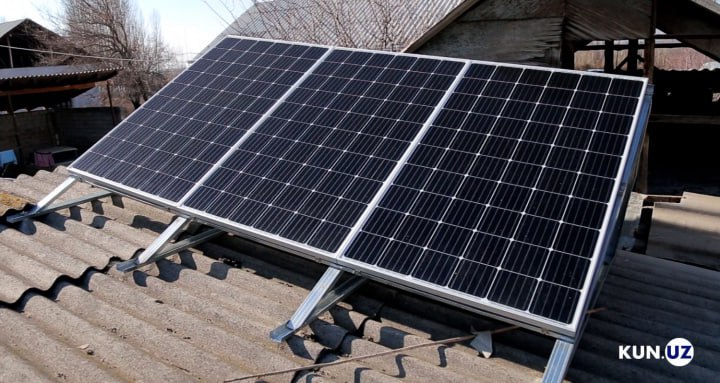 The presidential decision "On measures to accelerate the introduction of renewable energy sources and energy-saving technologies in 2023" was adopted.
According to it, from April 1, 2023, the "Sunny house" program will be implemented to encourage the installation of small power solar panels (total capacity up to 50 kW) in the territories of the republic.
Within the framework of the program, a subsidy of 1,000 soums will be allocated for each kilowatt-hour of excess electricity produced by the population through solar panels.
"Green Energy" company was established as a limited liability company for the installation and operation of small power renewable energy sources devices in the buildings and structures of social sphere objects, state bodies and other organizations.
According to the decision, renewable energy sources with a total capacity of 4,300 MW will be launched in 2023. In particular:
• 2,100 MW – large solar and wind power plants;
• 1,200 MW – solar panels installed in social sphere objects, buildings and structures of economic entities, and apartments;
• 550 MW – small photoelectric power stations built by entrepreneurs.
In 2023:
• 27 large capacity solar and wind power plants will be built on the basis of public-private partnership;
• 20,000 social sector facilities and state offices will install small capacity renewable energy sources devices;
• solar panels will be installed in the buildings and facilities of 11,000 entrepreneurs, and small photoelectric power stations will be built;
• 37,000 households will be equipped with small renewable energy sources;
• 765 apartment buildings to be commissioned will be powered by renewable energy sources;
• 103 small and micro hydropower plants will be built in the regions;
• 5,407 social facilities will be heated with coal.